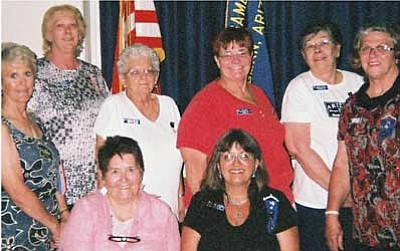 Originally Published: July 7, 2011 6:01 a.m.
American Legion Post 14: Auxiliary Unit 14 and Post 14 are cohosting a fundraiser for a 4-year-old Junior Auxiliary member who is undergoing treatment for cancer. Insurance doesn't cover everything, and her family's expenses are adding up. Please come to the post on Sunday, from 1 to 6 p.m. for a fine meal of tossed salad, beef stroganoff, mixed veggies, cheddar and dill biscuits, and dessert of strawberry shortcake or bananas foster. We're asking $8 per plate, and any additional donation you'd care to include would be greatly appreciated. On Monday, Post 14 is sponsoring a blood drive from 10 a.m. to 2 p.m. Walk-ins are welcome, but if your time is tight, an appointment is recommended. Call 702-233-9620 or go on-line to www.united.bloodservices.org to set up an account and schedule an appointment. Our "Third Saturday breakfast and meat raffle" is on the July 16, served from 8:30 to 10 a.m. Call the Post at 753-3555 for more information. Post 14 is on the corner of Third and Oak in downtown Kingman. American Legion Auxiliary Unit 14 installed its 2011-2012 corps of officers on June 9. Shown above in the front row are President Nora Armitage and Vice President Grace Van Horn. Second row, Secretary Sandy Brown, Member-at-Large and Jr. Past President Carol Bahr, Sergeant at Arms Florence Hawthorne, Member-at-Large Dana Brock, Chaplain Betsy Virtue, and Treasurer Rebecca Faris, who also served as the installing officer. Not pictured is Member-at-Large Peggy Heckathorn.
Friday Afternoon Bridge Club: On July 1, the winners were: first place, Zona Richey and Virginia Mead; second place, Jim Blaschak and Trey Gordon; third place, John Goryl and Dave Colfer; and fourth place, Bert Leenhouts and Lorraine Leenhouts.
Friends of the Railroad: The Friends hold a breakfast social from 9 to 11 a.m. at the Golden Corral the second and fourth Saturdays of each month. For more information, call Art at 692-7150.
Kingman Arizona Computer Users Group: KACUG invites you to join their July meeting from 2 to 4 p.m. Sunday, July 10, at the Kathryn Heidenreich Adult Center, 1776 Airway Ave. We are now set up with "Wireless Network" at the Heidenreich Center for those who wish to bring their laptops. Members will be able to have "hands on" which will make it easier for them to walk through and understand presentations. Please be sure your battery is fully charged if you plan to use your laptop at this meeting. This month will be a popular Q & A session covering several computer related topics: the wand scanner, importing/exporting your addresses, saving the addresses to a CSV format, Belarc, a program which pinpoints and tell you the security of your computer, what programs you have, key codes, etc., snipping tool to capture screen shots, using "free form snip, rectangular snip, window snip, full screen snip, Windows 7 and Vista tips, Lost recycle bin, XP-Vista and Windows 7, and if time permits, proper care of CD, and protection of a CD. Kingman Arizona Computer User Group (KACUG) Annual Dues are $12 per person; you may pay at our meeting. As a member of KACUG you will be entitled to attend all meetings, run for office and participate in the voting on all major polices and officer elections, subject to the KACUG bylaws. You do not have to own a computer to be a member. All persons with an interest in computers are welcome, experience not necessary. The totally new user is equally welcome along with the highly skilled user. To view this month's Agenda or any past month's agenda please click on our website www.kingmanazcug.com and "Agenda." Save this URL to your "Favorites" for future access. For further information, please contact President, Gloria Richhart at 377-6726. We have been an active computer users group in Kingman for over 19 years. Our Motto is "Friends Helping Friends." If you have just purchased a computer or contemplating buying your first computer you are welcome to attend. See you Sunday at 2 p.m.
Kingman Elks Lodge No. 468: The Kingman Elks Lodge No. 468 will host the United Blood Service blood drive between 1 and 6 p.m. Monday, July 11, in lodge's main dining room. The lodge is at 900 Gates Ave. For more information, call Dottye at (928) 303-0337.
Kingman Fraternal Order of Eagles No. 3744: The Friday night dinner will be served from 5 to 7 p.m. This week's special is prime rib, baked potato, vegetable and salad bar included for only $7 per person. Dancing will be from 7 to 11 p.m. to a variety of music with a live band. There will be a 50/50 prize drawing and other gifts to benefit our charities. The kitchen is also open on Saturday mornings from 7 to 10 for breakfast. Members and guests are welcome. The F.O.E. is located at 4536 Patsy Drive; for more information call (928) 757-8635.
Kingman Pinochle Club: The winners on July 2 were: first, Charlene Graves; second, Rose Lesniewski and Jan Crosier; and third, Joann Brown. For more information, call Pat at (928) 718-1253.
Kingman Route 66 Rotary: Rotary District 3520 GSE (Group Study Exchange) Team from Taiwan and Kingman Route 66 Rotary Club planted an Arizona Ash tree at Mohave Community College following the team's visit to the club's June 24 meeting. The team has been visiting Rotary clubs throughout District 5490, along with the Grand Canyon and other key Arizona attractions during the month of June.
Kingman USBC Bowling Association: The annual meeting for election of board officers will be held at 3 p.m. Sunday, July 10, at Mohave County Library's meeting room, 3269 N. Burbank Ave. All bowlers are encouraged to attend.
Mohave County Daughters of the Pioneers: The Daughters held their last meeting for the summer on June 20, 2011, at Geri Cox's home. We had 37 members and a great lunch. In May the Daughters gave three $500-scholarships to three descendants of Mohave County Pioneers. We earned the scholarship money through garage sales and raffles; it took teamwork. We have six lifetime members. All of our members are from families that with blood, sweat and tears helped build Mohave County. If your family was in Mohave County in the 1940s or before, join us. Call Mary Hassell at (928) 715-2020. Our next meeting will be at 11 a.m. Sept. 19 at Calico's Restaurant. See your there!
Stockton Hill Herd 4-H Club: The club is now meeting at the First Church of the Nazarene, 4715 Stockton Hill Road, on the second Friday of each month. The next scheduled meeting is at 6:30 p.m. July 8. For more information, call Jerri Rae at (928) 530-8839.
Vietnam Veterans of America, Mohave County Chapter 975: The VVA will have their fourth rummage sale between 6 a.m. and 1 p.m. Saturday, July 16, at Cerbat Lanes, 3631 Stockton Hill Road. We have collected a large number of items to be sold including about 1,000 books, 300 VHS tapes and CDs, several bookcase, a dining room set, household items, two generators, tools, toys, clothing, etc. All proceeds will be used to help all veterans in the Kingman and Mohave County area. We also have two ongoing raffles; tickets will be available to purchase. The raffle prizes are a large barbecue, which was built by inmates at the Kingman prison, and the other prize is a Fender guitar, which was autographed by Trace Adkins in Laughlin. It has the POW-MIA image on the front of the guitar. We will be starting at 6 a.m. at our sale to beat the heat. All residents are urged to come by and support our veterans.
Wednesday Party Bridge: The winners on June 29 were: first place, Leo Martensen; second place, Nelson Gaska; and third place, Rita Selk.