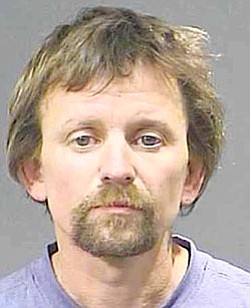 Originally Published: July 7, 2011 6:01 a.m.
KINGMAN - A man who sparked a police standoff when he shot his Camaro after it wouldn't start received a 90-day jail sentence Tuesday.
Lauriano Lawrence Lovato was the subject of a standoff that lasted 7 hours outside his home in the 2100 block of Los Angeles Street April 13. The incident began when Lovato went to start his car around 9 a.m. and, upon finding that the car wouldn't start, fired two rounds through the windshield and into the dashboard.
He then told police he went inside and went to sleep.
Neighbors who heard the shots called police, who responded and found shell casings in the driveway. Not knowing what kind of situation they were dealing with, officers established a perimeter and tried to communicate with the homeowner. Backup units and a SWAT team out of Bullhead City were called in as well.
The SWAT team eventually forced their way into the home through the front door and found Lovato on a couch in a backroom. He said he was unaware that police had been outside the entire time, despite a loud speaker that was used by police and a communication device thrown into the home.
Lovato pleaded guilty to one count of discharging a gun unlawfully within city limits in a deal with prosecutors and was sentenced to three years probation and 90 days jail time.