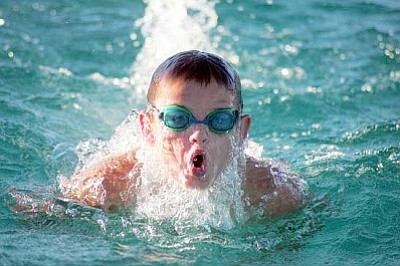 Originally Published: July 8, 2011 6:01 a.m.
KINGMAN - Dick Tomlin was first introduced to the Kingman Dolphins back in the mid-1970s when he was the sports editor of the Daily Miner.
His wife Bonnie remembers one of his stories about the Dolphins swimming in the old downtown pool and it being the only active 35-yard pool in the state.
"He goes way back with the Dolphins," Tomlin said.
Soon afterward, Dick went from covering the Dolphins to becoming an active member of the board, long before his kids became Dolphins.
But that wasn't enough.
Knowing that he was a pretty good runner and a biker, he wanted to improve his swimming in order to compete in triathlons, so Dick literally jumped into the pool with the Dolphins.
"He actually asked if he could join the Dolphins because he wanted learn how to become a better swimmer," Tomlin said.
Dick was part of the club's masters program, which allows adults to swim laps. Former coaches remember Dick hugging the gutters of the pool to stay out of the way of the kids.
"He loved it," Tomlin said. "He loved not only what it did for our kids, but what it did for so many kids in the community. The program was open to anybody. If you couldn't afford it, you were given a scholarship. If you couldn't afford to take your kid to an away meet, one of us would put him in the car with us and take them along."
On June 4, 2005, Dick and Bonnie were at the pool setting up for that day's Dolphins Blue and White swim meet when Dick got on his bicycle for a ride. He returned later to watch his son Zach swim his last race of the day and then took off again on his bike.
A few hours later, Dick was struck by an RV as he rode his bike on Route 66 near the airport. He was airlifted to Las Vegas where he died.
After his death, the Dolphins renamed the Kingman Invitational to Dick Tomlin Invitational, and six years after his death the Dolphins will once again honor him by hosting the event Saturday at Centennial Park Pool.
"Dick Tomlin used to be real active with the team for about 10 years on the board," said Terry Miyauchi, president of the board of directors for the Dolphins. "He was part of the parent board and helped coach with the team. He was just real active with the team."
The invitational is non-sanctioned. The winner of the Dick Tomlin Memorial Scholarship, given to a graduating senior who has participated with the Dolphins for a number of years will be announced. Mariah Moon, a 2010 graduate of Kingman High who went on to swim at Berry College in Mount Berry, Ga., will speak about Dick Tomlin. Moon was 13 at the time of Dick's death.
"It's a great honor," said Tomlin of having the invitational named after her late husband. "I think he would be humbled and he would be, 'oh my gosh, there are so many other people who did so much more for the team than me,' because that's the way he was."
According to Bonnie, Dick was a very modest man who did not put attention on himself. She did say he would be very proud of the success of former Dolphins Moon and Kelsey Hlavac, who went on to compete in college, Chris Workman, who earned an academic scholarship at Arizona State University, and Shane Hall, who has used what he learned with the program in his training to become a rescue swimmer in the Navy.
But she also knows where Dick would be.
"I think he would still be there hugging the damn gutters," Tomlin said. "I know he would."