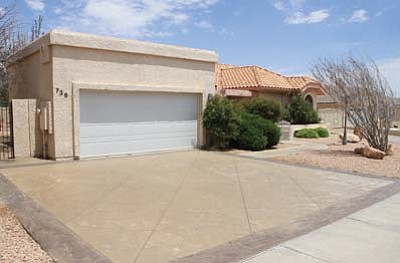 Originally Published: July 12, 2011 6:01 a.m.
KINGMAN - The housing market in Kingman improved slightly over the last few years, but federal regulations that have Realtors worried are on the horizon.
Nearly 80 single-family Kingman homes were sold in June, making it the second highest month of sales in 2011. March holds the No. 1 slot, with 99 homes sold. However, June's $102,523 average sale price trumps March's $98,103 but is still lower than May's $111,748 and April's $103,668.
To date, 422 Kingman homes have been sold. At this pace, 2011's numbers are comparable to 2010's 955 and 2009's 884 home sales. Although not as strong as the last couple years, 2011 looks better than 2007 and 2008, when home sales dipped below 650 both years.
Sales are up, but prices are down. In 2007, the average sale price of the 635 homes sold in Kingman was $128,666. Since then, prices have hovered at or a smidgen above $100,000.
Foreclosures play a role in the market as well.
As of July 5, there were 279 residential foreclosures for sale in Mohave County. There were an additional 186 foreclosures under contract, meaning people placed bids but closing dates had not passed. Together, there were 465 residential foreclosures listed in the county.
As for the active listings, 73 were in Kingman, 19 in Golden Valley, 76 in Lake Havasu City and 56 in Bullhead City. Several other towns round out the list; the two most significant were Mohave Valley and Fort Mohave with 22 and 16, respectively.
The range of prices for the active listings goes from $14,900 to $509,999, for an average price of $102,925.
Kathleen Murray, former president of the Kingman/Golden Valley Association of Realtors, said Realtors cannot hold houses off the market once aware they're to be listed.
Once a foreclosure is up for listing, Realtors, including those with KGVAR, who use the Western Arizona Realtors Data Exchange's multiple listing service, have one business day to list the property. If they fail to do so, it is an initial $50 fine with subsequent $10 fines levied each additional day the property is not listed.
Shadow inventory
Realtors have nothing to do with "shadow inventory," Murray said. Banks hold foreclosed properties off the market for various reasons, and Realtors have no control over banks, she said.
Major banks work foreclosures, but in many cases, they do not own the properties. They're merely servicing the loans for investors, Murray said.
Consider an investor who owns 10 home loans that go bad. He or she must decide which properties to sell and which to hold. Add the fact that these loans were for $300,000 homes that are now worth $100,000 apiece. The investor must decide whether or not to hold each property in hopes that the housing market bounces back or to sell each property at a loss in order to recoup a portion of the investment, Murray said.
Under this scenario, a foreclosed home may not be listed for a lengthy period of time because of investors and banks but not Realtors, Murray said.
All Realtors are bound to a code of ethics, she said. Within that code, it states that Realtors may not list a property without proper authority, meaning the seller wants it listed. Also, foreclosed properties must be identified as such, Murray said.
Although the housing market has shown some improvements, Murray said there is no such thing as a crystal ball and things can get better or worse at any moment.
QRM concerns Realtors
One piece of possible federal legislation - known as the qualified residential mortgage exemption - has Realtors all over the country concerned.
In a recent paper prepared by multiple entities, including the Consumer Federation of America, Real Estate Services Providers Council and Mortgage Insurance Companies of America, and titled "Proposed Qualified Residential Mortgage Definition Harms Creditworthy Borrowers While Frustrating Housing Recovery," the dangers of the proposed QRM rules are outlined.
Balance undermined
As part of financial reform legislation and as a way to discourage excessive risk taking, Congress required securitizers to retain 5 percent of the credit risk on loans, but legislators also created an exemption for QRMs, according to the paper. However, the proposed exemption rules undermine the balance Congress is looking for between the need for credit standards and the need to improve access to credit.
"Rather than creating a system of penalties to discourage bad lending and incentives for appropriate lending, regulators have developed a rule that is too narrowly drawn," according to the paper.
One of those narrowly drawn rules is that within the QRM exemption, there would be the requirement for 10- to 20-percent down payments on homes.
It would take the typical American family - making $50,000 a year - nearly 10 years to save up for a 10-percent down payment and 16 years for a 20-percent one. These numbers assume the family directs every single penny of savings toward the down payment, according to the paper.
Despite historical loan performance data that show that low down payment loans perform well provided the loan has been properly underwritten and has consumer friendly features, QRM regulators insist upon a punitive down payment requirement, the paper states. Also, the QRM was supposed to provide a framework for housing recovery, but the definition is so narrowly defined that first-time and existing homeowners will face higher interest rates or be forced to postpone purchases or refinances.
Washington Post columnist Michelle Singletary sums it up: "We won't stop a repeat of the housing crisis and predatory lending by making creditworthy people wait a decade or two before they can save enough money to get the best mortgages."
Murray said if QRM rules are voted in by Congress as is, the new regulations would take effect in September. People need to be screaming at Congress to not accept these rules as proposed, she said.