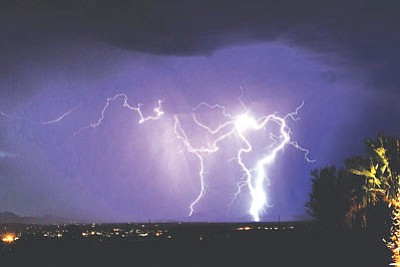 Originally Published: July 12, 2011 6:01 a.m.
KINGMAN - Clouds, swollen and black, loomed over Kingman last weekend, occasionally illuminating the sky with streaks of lightning while frightening local pets with thunderous booms. Oh yeah, there was rain, too - and humidity.
Monsoon season is here.
On Saturday and Sunday, the Mohave County flood warning system generated two automated alarms for weather-related events, according to the system's supervisor, Fred Weyermiller.
On Saturday, the system generated an automated alarm for heavy rainfall at the North Cerbat Mountains site, located between Dolan Springs and Stockton Hill Road. In a one-hour period, the site recorded nearly an inch-and-a-half of rainfall, Weyermiller wrote in an email.
Sunday's heavy rainfall warning came from the Truxton Wash at Route 66 site, located between Valle Vista and Hackberry. Between 12:30 and 7:30 p.m., the site recorded over 2 inches of rainfall.
The National Weather Service also issued a severe thunderstorm warning for an area northeast of Kingman Sunday.
Although the weekend was wet and frightening - for some - this week will most likely stay clear, dry and hot.
According to the NWS, today's high temperature should reach 91, but wind gusts could push 33 mph. Wednesday's forecast is almost identical. Thursday, Friday and Saturday will all boast 90-degree highs, but should be relatively windless by Kingman standards. Sunday may see a return of thunderstorms, however.
Enjoy the - not too hot - heat this week, but prepare for a possible wet and electric Sunday.