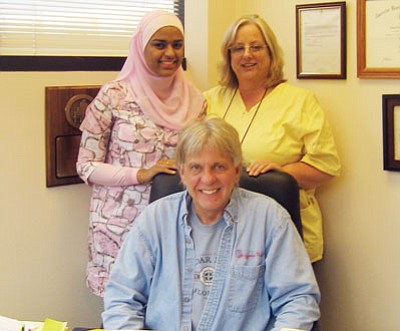 Originally Published: July 13, 2011 6:01 a.m.
KINGMAN - A Kingman medical student returned home last month to give back to the community she grew up in. Noura Mustafa is a second year medical student at the University of Arizona and completed her first residency in the Kingman area through UofA's Rural Health Professions Program Friday. Mustafa has lived in the Kingman area since she was 5.
"I don't think there's ever been a time when I didn't want to go into medicine. I've always wanted to have a positive impact in peoples' lives," she said. "Although, I did consider going into teaching at one point, but as a doctor you kind of get to do both."
Mustafa said there are about 19 students in the Rural Health Professions Program. The idea behind the program is to encourage more doctors to move into rural medicine, where there is a large need for doctors, she said.
Mustafa said when she saw that a local Kingman doctor, Dr. Kenneth Jackson, was one of the 20 to 30 doctors throughout the state that participate in the program, she applied hoping to give something back to her own community.
Mustafa may have gotten more experience that she was expecting when her residency with Jackson started on June 6. Jackson, who was named 2010 country doctor, is well known for his work in rural family medicine and for his monthly trips by horseback or helicopter to supply medical services to the Supai Village near the bottom of the Grand Canyon, where he sometimes trades medical services for other items such as firewood.
Mustafa said she saw the whole gamut of diseases and patients of every age range, from helping deliver 10 babies to caring for elderly patients, and diseases ranging from diabetes to things she's only read about in her medical books.
A lot of students who work with him study rural medicine because of the wide range of diseases and health conditions that they get exposed to, Jackson said.
She also made the trip to Supai and Peach Springs with Jackson twice.
"Supai is so very peaceful," she said. The people there aren't interested in the rush of the outside world. They have their own way of doing things in their own time, and they were all very welcoming to her.
She said it was refreshing and exciting to get out of the classroom.
"It really gave me a good idea of some of the health conditions we study and the connection between medicine and disease," she said. "Jackson's a great mentor. He really taught me that medicine isn't just treating the underlying disease, and that's something that I hope to take with me through the rest of my career," Mustafa said.
Jackson said he enjoys teaching medical students like Mustafa. Most of his students are usually third year medical students from Midwestern University. Mustafa is one of a few he gets from UofA. He estimated that he's taught around 100 students in the last 13 years. Mustafa is the third student from the Kingman area that he has taught during that time period.
"Noura was great to work with. She had a lot of questions about things I haven't considered or thought about in years," Jackson said. "She also has a great sense of humor. You have to have that in this field."
Teaching medicine is a two-way street, he said. Students get to see how things are done and if medicine is something they really want to do. Mentors get the enjoyment of watching a student grow and learn what's new in medicine.
"You give something, but you also get something," Jackson said.
Mustafa said she definitely wants to go into family medicine and obstetrics like Jackson, but she hasn't made up her mind if she'll practice in a rural area. She would like to take her next residency with Jackson.
She wouldn't be the first student to do so, Jackson said. A number of students who have completed their residencies with him have returned to do another. He is even able to keep in touch with some of them.
In a quirky twist of fate, his daughter did her residency with one of his former students, he said.
"What I would tell other med students is don't lose touch with the real reason why you went into medicine. If you continue to practice being caring and compassionate, you will succeed," Mustafa said.