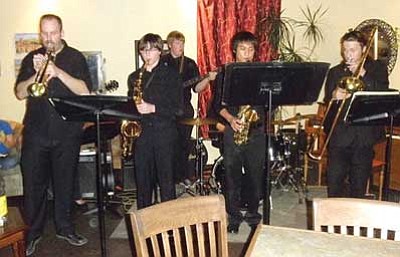 Originally Published: July 17, 2011 6:01 a.m.
KINGMAN - Enjoy an evening of smooth jazz and great eats, and help the Kingman High band raise money for a new trailer so it can transport its gear to a multitude of competitions every year.
On Friday, the KHS band will present "Bourbon Street meets Beale Street" at Dora's Beale Street Deli. For $25, you can have your choice of New York steak, salmon with pesto sauce or chicken with rosemary sauce. The meals come with either a green or Caesar salad. There will also be an assortment of mousse cakes, including chocolate, cappuccino and amaretto.
KHS band members will double as waiters, while the school's Jazz Combo No. 1 provides entertainment. The combo is made up of one freshman, a junior, two seniors and two students who recently graduated.
Band director Mike Schreiber said the band already has a van, but it's as old as him, has trouble exceeding 55 mph and requires frequent maintenance. When going to Phoenix for competitions, the band must rent a truck to haul all its gear, which can be rather costly, Schreiber said.
The upcoming fundraiser, which is the first time the combo will be the main attraction, is designed not only to raise money but also to give band members a chance to experience real life as professional musicians and hopefully provide opportunities down the road, Schreiber said.
The combo is full of talented musicians, including a current and former member of the all-state jazz band, Schreiber said. The current is Tyler MacAfee, who plays the trombone, and the former is David Joe, who plays the alto saxophone.
"All of them play great," Schreiber said. "Sometimes I can't believe they are high school kids."
A lot of growing up happens when playing gigs, he said. Players must learn to make decisions on the fly and adapt to situations when everything doesn't go according to plan.
"It's a real learning experience," Schreiber said. "They will pick up skills that you can't teach in a classroom."
Although getting to competitions in Phoenix can be expensive - especially when you have to rent your transportation - Schreiber said the KHS band is much too talented to not compete. If he were to allow them to miss competitions, it would be a disservice to them, KHS and the rest of the community.
"In the music world, these competitions are our AIMS tests," Schreiber said. "It's a chance to see how we compare with the rest of the state."
To get the trailer, Schreiber said the band needs another $3,000. His goal for this event is to exceed that amount, but if proceeds get close, he has other options for getting the trailer this year.
Dora's owner, Dora Manley, will pay the event's cost and then donate the remaining proceeds to the band, which should be about 70 percent, Schreiber said. Manley, who is a jazz fan, said she is very excited about the event.
"The deli is the perfect venue for fundraising," she said. "This is the first of many different fundraiser for different school organizations."
Manley said 30 reservations have already been made, and there is still plenty of room. There will be two separate sittings, one at 5:30 p.m. and the other at 7:30 p.m. At each sitting, there will be room for two or four people at 10 different tables - depending on the table's size. Even if all the tables fill up, Manley said accommodations for people could be met.
Call (928) 279-4560 to make a reservation. Dora's Beale Street Deli is located at 509 Beale St.
With music, dinner and a good cause, "you can't go wrong," Manley said.