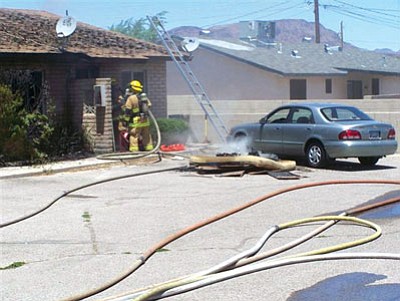 Originally Published: July 19, 2011 6:01 a.m.
KINGMAN - A Kingman Police officer received minor injuries after being struck by burning debris while trying to warn a resident of a fire Saturday.
Police Capt. Rusty Cooper said the officer suffered second-degree burns to the neck and was treated on-scene at the fire that broke out in the 2000 block of Florence Avenue just before noon.
The injured policeman was one of two KPD officers who heard coughing coming from inside the burning residence. They forced their way inside the unit on the north end of a triplex but by the time the officers got inside, the 27-year-old resident had already made his way out the back door, Cooper said.
Kingman Fire Battalion Chief Bill Johnston said the cause of the fire is believed to be a candle that was placed on an entertainment center in the living room. The candle then ignited nearby materials and the fire spread from there, he said.
Damage estimates are believed to be in the $65,000 range. Johnston said the fire was contained to the original apartment, but neighboring units reportedly suffered some smoke damage.