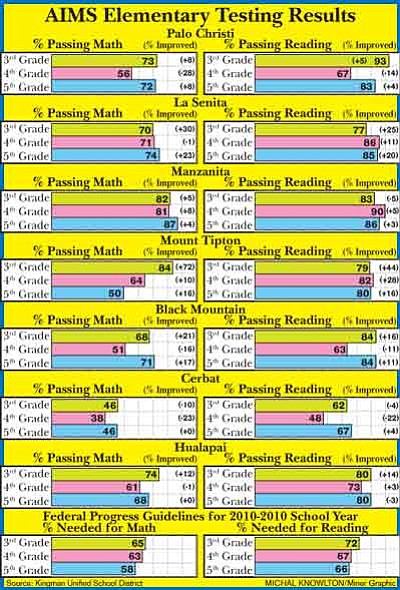 Originally Published: July 27, 2011 6:01 a.m.
KINGMAN - Overall, Kingman elementary schools had a good year as far as standardized tests go. However, there were some areas where students regressed dramatically.
This is the first installment of in-depth looks at Kingman area Arizona Instrument for Measuring Standards test scores. It deals strictly with the scores of third-, fourth- and fifth-graders at elementary schools. Cedar Hills' individual elementary grade scores have been omitted because not enough students took the tests to warrant scores. However, the school's combined scores were 64-percent passing in both reading and math with 11 students tested.
Throughout the Kingman Unified School District and within the Kingman Academy of Learning, average yearly progress standards - set by the federal government - were met in all but nine categories out of the 48 reported for math and reading.
Manzanita Elementary scores were all above 80 percent and growth was shown in all categories but one - third-grade reading.
The school's principal, Jeri Wolsey, said that two years ago 87 students exceeded in one or more parts of the AIMS test, but this past year saw 123 students exceeding on one or more parts. This success points to staff, parents and students all being on the same page, Wolsey said.
"I feel really good about the scores," she said.
In order to prepare students for the tests, Wolsey and teachers met with every student between second and fifth grade, used Assessment Technology Incorporated's Galileo tests to track growth and provided flexible tutoring in order to help students who struggled with specific concepts.
The ATI tests are given four times a year, and they act as precursors to AIMS tests. They show where schools will score on AIMS pretty well, Wolsey said.
The flexible tutoring allows tutors to give specific instruction regarding concepts to a student every day for two weeks, Wolsey said. Once students understand the concept they've been working on, they are moved out of the flexible tutoring and another student is moved in.
The tutoring is crosschecked with the ATI results as well, and if students continue to struggle, they're moved back into the tutoring, Wolsey explained.
"It's a time-consuming process, but it's worth it," Wolsey said. "Just look at our scores."
Wolsey thinks there is always room for improvement, but she also hopes for a new system of accountability.
AIMS is one snapshot of one hour of one day, and it does not account for how much students and teachers work throughout the school year, Wolsey said. It also does not account for students with test anxiety, or ones having a bad day when the test is administered, either.
The system is good for data, but Wolsey wishes it accounted for student improvement, too. If a fifth grader reads at a second-grade level at the beginning of the year and at a fourth-grade level at the end of the year, he or she still misses federal progress standards despite coming so far during the year, Wolsey said. A snapshot is good, but a slideshow is better, Wolsey said. There is a need for a system that accounts for the human aspect, she added.
"We're not manufacturing cars," Wolsey said. "Everyone is different."
At La Senita Elementary, students showed large margins of improvement in all but fourth-grade math.
"I feel fantastic about these numbers," La Senita Principal Sue Hamilton said. "The kids worked really hard."
During the school year, Hamilton implemented a program where each school day had a study hour. During the study hour, students were divided into small groups with teachers, and concepts were gone over until students demonstrated understanding. Kids who continued to struggle received one-on-one time with teachers as well.
"This is the first year we did it," Hamilton said. "And it paid off huge."
Hamilton's No.1 priority is student growth and making sure the things students learn are actually something they can use.
With stories of standardized test cheating by educators popping up in various states as well as the recent scrutiny of Arizona test scores in the last five years, it makes sense to ask school administrators and district heads what is being done to ensure accurate test results.
Once tests are completed at La Senita, they are brought to Hamilton, who checks that all tests are accounted for with the teachers. At that point, the tests are locked up and teachers have absolutely zero access to them, she said.
"They have no time to cheat," Hamilton said.
Even so, Hamilton said her teachers are good, demonstrate professional ethics, know what they're doing and have absolutely no need to cheat.
KUSD Superintendent Roger jacks said the district takes cheating very seriously. State guidelines are very strict in regards to how tests are administered down to how test booklets are handled and how well classes are monitored. If any question of procedure comes up, Jacks said it's reported to the state because he would rather run a joint investigation of the issue than have the district tackle it alone.
In the six years Jacks has been superintendent, there haven't been many cases of cheating. There have been a few issues of students being caught using calculators and copying, but other than that the district has been rather clean, Jacks said.
One of the issues brought up in recent score speculation is huge percentage jumps from one year to the next. Consider Mount Tipton School, which demonstrated gargantuan jumps in third grade reading and math. These jumps do raise a red flag, Jacks said, but the situation must be considered.
The teacher who taught third grade during the 2009-2010 school year didn't do very well preparing students for AIMS, Jacks said. That teacher also resigned toward the latter half of the year. For this year, both third grade and fourth grade had new, outstanding teachers, Jacks said. Also, the ATI tests showed scores comparable to the final AIMS scores. That means the improvement didn't just happen but was tracked throughout the school year.
Mount Tipton's former Assistant Principal Joyce Pietri said the improvement also came from a lot of people keying in on the problems, getting additional staff and experienced teachers and interventionists stepping in to help.
Of all the KUSD schools, Cerbat Elementary struggled the most, missing AYP standards in four out of six categories.
Principal Dawn McGill said Cerbat made AYP standards for the nine years she has been there, was a performing plus school three years in a row and a performing school before that. This year's scores were not normal, McGill said.
"(These scores) ruined my summer," she said. "I believe the students know more than the AIMS reflects."
Even so, she and the school's staff has worked to find out what went wrong and come up with ideas to make sure it doesn't happen again.
One issue that came up last year had to do with the school being tapped to normalize two different tests: the Iowa Tests of Basic Skills and Riverside Publishing's Cognitive Abilities Test. The school was happy to help work these tests out, but when AIMS scores came out, McGill and many of her teachers thought maybe they had tested students too much.
Despite the added tests, students still needed to take all the ATIs and the AIMS, McGill said.
Also, the third ATI test of the school year is supposed to be the best predictor of the AIMS scores, and Cerbat's ATI scores were respectable, McGill said. But there was a huge drop with AIMS, which really shouldn't happen, she added.
Even with the strange year, there are still plans to work intensely with students in small groups to bring up scores. McGill wants to even call on the specialty teachers such as music and computer instructors to work on concepts with groups of students every single day.
"We also want to build responsibility in the kids," McGill said, "and push them to beat their own scores."
No matter what is done, the goal stays the same: Get Cerbat back to scoring the way it has for the last decade.
"Our teachers are ready to grab the bull by the horns," McGill said.