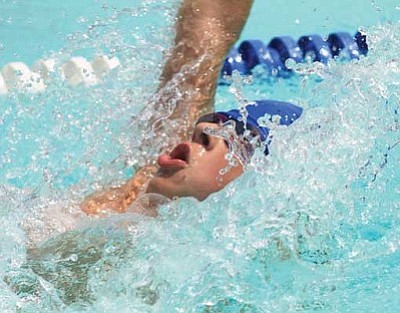 Originally Published: July 29, 2011 6:01 a.m.
KINGMAN - Aden Dunton placed fifth in the boys 10U 50-meter breaststroke to lead the Kingman Dolphins at the State Age Group championships this past weekend in Mesa.
Dunton placed sixth in the preliminaries of the 50 breaststroke to earn a spot in the finals. He also finished 10th in the 100 breaststroke after placing 10th in the preliminaries.
"He had huge time drops and I was impressed," said Dolphins coach Beth Mathe of Dunton, who also placed 18th in the 50 freestyle prelimin aries.
As a team, the Dolphins placed 27th with 77 points. Phoenix-based Swim Neptune placed first followed by Scottsdale Aquatic Club.
Dolphins swimmers made 11 finals including Marco Narvarte, who finished 14th in the boys 11-12 400 individual medley and qualified for the 50 backstroke and 50 freestyle.
"We had multiple swimmers place in the top 20 and they need to be commended for that," Mathe said. "That is hard to do and they should be proud. To be in the top 20 of the state says a lot about the commitment they make."
Joining Dunton and Narvarte in the finals were: Jacob Catalfamo, boys 11-12 400 IM; Eric Depner, boys 10U 400 freestyle; Kael Juelfs, boys 11-12 100 and 200 breaststroke; and Jacob Miyauchi, boys 13-14 800 and 1500 freestyle.
"They all swam great and they all had time drops," Mathe said.