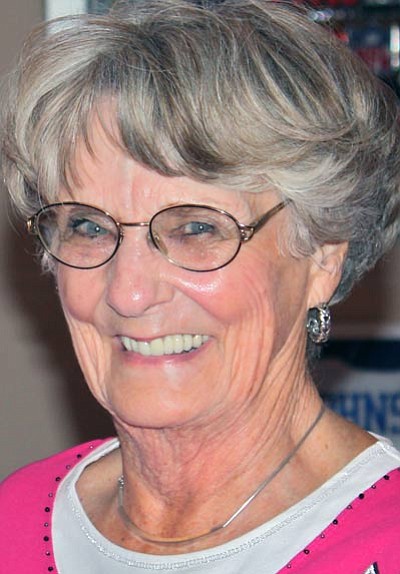 Originally Published: June 1, 2011 6:01 a.m.
Lorraine Hunt passed away unexpectedly on May 27, 2011. She was born Lorraine Bellwood in Flagstaff, Ariz., on July 9, 1930.
Lorraine was an unusually bright child, starting first grade and piano lessons at the age of 5. Most of her childhood was spent trying to figure out ways to avoid her parents' strict discipline, which included practicing the piano at least two hours a day. Lorraine graduated from Flagstaff High School in 1947 and then continued her music instruction at Arizona State Teacher's College (now Northern Arizona University). In 1949 she won a statewide competition for a scholarship to further her music education at the Eastman Institute in Rochester, N.Y. However, the prospects of practicing now three to four hours per day were not appealing to the spirited 19-year-old, and she declined the scholarship.
In 1950, at the age of 20 she married Charles Orr, and her first child Toby came within a year. This didn't stop Lorraine from completing her college degree in secondary education by commuting between her new home in St. Johns, Ariz., and Flagstaff.
After brief stints in St. Johns and Phoenix, Lorraine and her family came to Kingman in 1953 where she's lived ever since. Lorraine's adult life was focused on being a completely devoted wife, mother, grandmother, and homemaker. However, a spare-time teaching career included a year at the Murphy School District in Phoenix and three years at Kingman Elementary teaching third and sixth grades. Working as a church secretary and a construction company bookkeeper rounded out her non-volunteer working career.
Lorraine was married to Gordon Hunt from 1978 until his death in 2004. Lorraine enjoyed an active retirement with Gordon traveling all over North America and continuing volunteer activities at a pace that would tire people half her age. These included: Pink Ladies, Soroptomist (former treasurer), Route 66 Association, Master Gardeners, Mohave Museum (former president), Mohave Valley P.E.O., Kingman Quilter's Guild (past President), two book clubs, Kingman Republican Women (former treasurer), and Rotary International. Her activities as a lifelong member of the Methodist Church included positions on the Board of Trustees, Mission Team and Choir accompanist. Lorraine's passion for traveling took her to more than 40 countries and included such unique destinations as Turkey, Vietnam and Tibet.
Lorraine's positive attitude and cheerful, upbeat presence will be missed by everyone who knew her. She is survived by a sister Beverly Burns; two sons, Toby and KC Orr; and daughter, Jeanne Mathiesen; six grandchildren, Marcia, Randy, Bobby, Jennie, Tony and Michael; and two great-grandchildren, Clifford and Cameron.
Services will be held at 11 a.m. Friday, June 3, at St. Johns United Methodist Church, 1730 Kino Ave. Memorial donations can be sent to the Mohave Museum or the Methodist Church Music Program.
More like this story