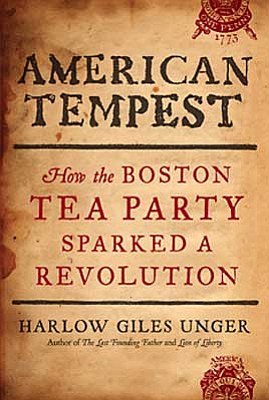 Originally Published: June 3, 2011 6:01 a.m.
American Tempest: How the Boston TEA PARTY Sparked A Revolution, by Harlow Giles Unger; 978-0-306-81962-9, 288 pages; $26; March 2011; Hardcover; History; Da Capo Press - a member of Perseus books.
When a group of people adopt the name "Tea Party," they have committed themselves to an American tradition - speaking out for what they believe should be changed in America based upon what the Founding Fathers did in the 1700s.
"American Tempest" was written by Harlow Giles Unger, the author of "The Last Founding Father," "Lion of Liberty," and 17 other books all relating to American history.
Unger writes with authority and documents each of his books with facts that are sustainable from the archives of libraries and individual collections. The reader can rely upon what he has written. Though it is somewhat trite to say "truth is stranger than fiction," it is certainly one of those truisms with the writing of Unger. Many times we find history books dull and drab, repeating many of the school lessons concerning dates that have to be learned without meaning. When they are tied together with detailed actual events, and they span a period of time that twines them together, it is then that the real meaning of what the Boston Tea Party did to spark a revolution is realized.
Three ships were in the Boston Harbor when a group of patriotic activists dressed as Indians boarded them to destroy tea that had been bound for the usage of colonists. The protest was based upon a tea tax that had been levied by the British crown. The estimated value of the loss was $1 million, but more importantly it was about the message sent - "no taxation without representation."
Tea Parties erupted in other cities throughout the colonies, a lesser known fact. The colonists believed that they should be recognized as a part of the crown's empire with full rights and privileges to be represented in decisions which affected them.
Many of the people who are highlighted are well known to students of history, but there were many who were not so famous which makes this book more enjoyable. Sam Adams, a brewery owner, orator Patrick Henry, John Hancock (the president of Congress when the Declaration of Independence was signed a mere two-and-a-half years later) were among those who are well known.
Today's modern Tea Party has adopted the name of what started in Boston.
A better understanding of what happened, and the subsequent events that led to liberty are detailed in this book. This book is highly recommended and is a 4-star read.
Publishers Weekly
Best Sellers
Week of May 30
Hardcover Fiction
1. Dead Reckoning, by
Charlaine Harris
2. 10th Anniversary, by
James Patterson &
Maxine Paetro
3. Buried Prey, by John
Sandford
4. The Jefferson Key, by
Steve Berry
5. The Sixth Man, by
David Baldacci
Hardcover Non-Fiction
1. In the Garden of
Beasts: Love, Terror,
and an American
Family in Hitler's
Berlin, by Erik Larson
2. The Dukan Diet, by Dr.
Pierre Dukan
3. Does the Noise in My
Head Bother You?, by
Steven Tyler with
David Dalton
4. Lies That Chelsea
Handler Told Me, by
Chelsea's Family,
Friends, & Other
Victims
5. The 17 Day Diet, by
Dr. Mike Moreno
Clark Isaacs is an accomplished book critic who is published in local newspapers and national book review lists. He is a member of the faculty of Mohave Community
College in Kingman, Arizona. Visit Clark Isaacs at http://clarkisaacs.ning.com.