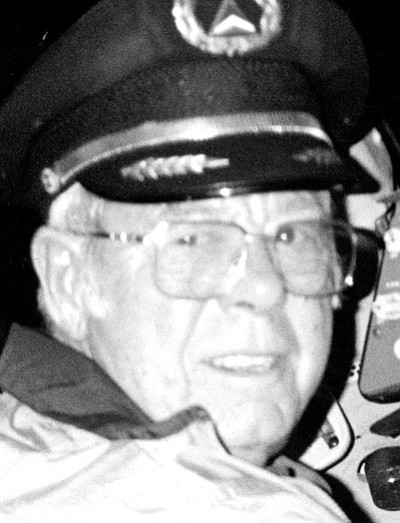 Originally Published: June 7, 2011 6 a.m.
George "Jack" Foschaar passed away unexpectedly on Thursday, June 2, 2011, at his home in Kingman. He was born in Terre Haute, Ind., on Aug. 29, 1927, the youngest of six children of John and Goldie Mae Foschaar. He survived his loving wife of 60 years, Betty Lou, who passed away in February, and is survived by their children, Jacqueline Sue, James, Michael and his loving daughter-in-law, Cheryl Colleen (Sweetie-Pie). George was a grandfather of five (Melodie, Michelle, Matthew, Jennifer and Amber), a great-grandfather of six and great-great-grandfather of one.
George's childhood was spent in Indiana, and he lived there through the Great Depression, signed on as a Merchant Marine (concealing his under 18-year-old age) to help the World War II effort and returned home to work in various fields until he met Betty Lou. On Oct. 21, 1950, George and Betty Lou were married in Indiana and then moved to California to start their family. George worked as a union electrician and was responsible for many construction projects in both California and Indiana, moving his family to follow the requirements of his occupation. His most notable contribution was in supervising the electrical aspect of construction of the first off-shore oil platform to Ventura County, Calif. A construction accident on that platform resulted in his retirement in the early 1980s.
George had a constant thirst for knowledge and was conversant in many fields of interest. There was no subject that he did not have at least a passing knowledge of, and whether asked or not, would be happy to share his opinion regarding anything. He was a member of the Kingman branch of the Rough Ashlar Masons, the Kingman Aero Club and the American Legion. George was a private pilot and owned a Cessna 150 and a Piper Cherokee 180, and loved spending time on both flying and maintaining his airplanes. His interests involved the Kingman Air Museum, opining on federal, state and local politics, and he wrote several letters-to-the-editor regarding local political posturing. Never at a lack for words or opinions, George either endeared himself or created heated debates on those stated opinions. He left many, many dear friends, here in Kingman, California and Indiana. He will be greatly missed.
Per his specific request, there are no services scheduled.