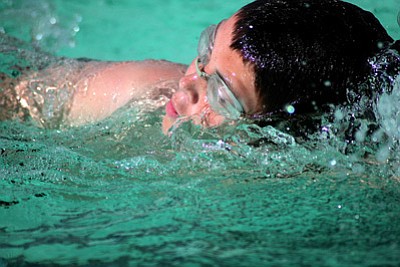 Originally Published: June 9, 2011 6 a.m.
KINGMAN ¬- Nathan Barnhart placed second in three events to help lead the Kingman Dolphins at the Beat the Heat swim meet this past weekend in Flagstaff.
Barnhart placed second in the 50-meter butterfly (33.24 seconds), 100 backstroke (1:19.53), and 100 breaststroke (1:30.40).
"Flagstaff can sometimes be a tricky meet because we are swimming at almost 7,000 feet, and for the longer events, it can have an affect on the swimmer," Dolphins coach Beth Mathe said. "Fortunately our swimmers dropped huge amounts of time some over one minute in their longer events."
The Dolphins had nine second-place finishers total with Aden Dunton, and Kael Juelfs doing so multiple times.
Dunton placed second in the 100 breaststroke (1:54.35) and the 50 breaststroke (50.12), and Juelfs was allowed to enter the 50 breaststroke twice and placed second in each with times of 45.05 and 43.00.
Other second place finishers were: Blair Benefield in the 50 breaststroke (42.69), and Jacob Miyauchi in the 400 freestyle (5:22.92).
"I was amazed and very proud of the swimmers this past weekend," Mathe said. "There were some huge time drops, some larger then expected which sets us up great for the rest of the summer."