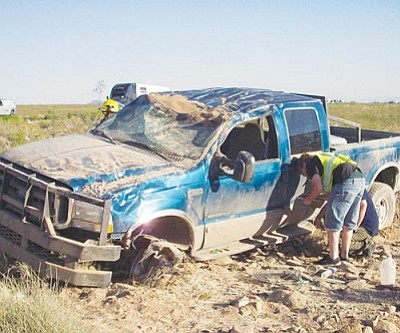 Originally Published: June 12, 2011 6:01 a.m.
Top Photo:
One person was seriously injured when a blown tire led to a rollover on westbound Interstate 40 at milepost 41 around 5:45 p.m. Tuesday. Golden Valley Fire District officials said a woman and a 14-year-old boy were ejected from the Ford F-350 truck when the truck rolled and landed in the median. The woman was airlifted to University Medical Center in Las Vegas. The boy was transported to a local hospital with minor injuries. Two others in the truck, the 62-year-old male driver and a 4-year-old boy, were wearing seat belts and suffered only minor injuries, according to Fire Capt. Dave Martin.
Bottom Photo:
Golden Valley Firefighters treat two victims of a single-vehicle rollover on eastbound Highway 68 Wednesday afternoon. The men were on their way to work at the Arizona State Prison when the accident occurred. Golden Valley Fire Chief Tom O'Donohue said this was the third rollover on Golden Valley roads last week, including one fatal. O'Donohue said either of the men involved in this accident could have been thrown from the vehicle since the windows blew out as it rolled, but both men were wearing seat belts.