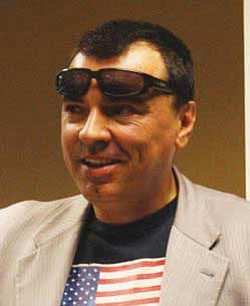 Originally Published: June 12, 2011 6 a.m.
KINGMAN - A Golden Valley man has dropped the defamation part of his lawsuit against Mohave County.
Luca Zanna filed the civil lawsuit against the county in August, alleging county officials violated his First and 14th Amendment rights when Board of Supervisors Chairman Buster Johnson prevented him from passing out a flyer at a town hall meeting held by Sen. John McCain at the County Administration Building in November 2009.
Zanna also claimed that he and his wife suffered emotional distress and damage to their reputations when Supervisor Tom Sockwell and County Manager Ron Walker wrote two letters to local newspapers. Zanna claimed in his original lawsuit that the letters were libelous, malicious and filled with lies and discriminatory remarks, launching a defamation of character assault. He also claimed that Sockwell made damaging comments about him during a speech during a Bullhead Republican Women's Association meeting.
He also claimed that the county's written policy prohibiting political activity, which was approved in March 2010, is a violation of the First and 14th Amendments.
Zanna said that he dropped the defamation part of his case because his main objective in filing the lawsuit was to "expose the unconstitutionality of the policies and ordinances imposed by Mohave County and to protect not only our First Amendment rights, but also the rights of all the people in this county."
He said that he plans to continue to fight the county on the alleged infringement on his First Amendment rights.
Zanna also said that it appears that the county's attorneys had no desire to settle the case.
Zanna and his attorneys and the county and its attorneys held a settlement conference on April 12. No agreement was reached.