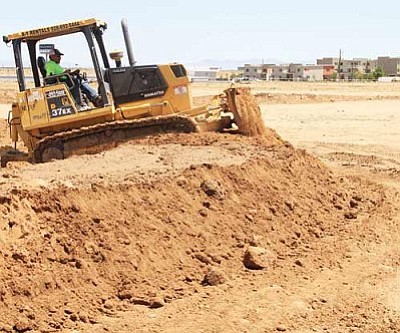 Originally Published: June 13, 2011 6:01 a.m.
KINGMAN - When Kingman's Planning and Zoning Commission meets Tuesday, several topics which have gone back-and-forth between the commission and City Council will be up for discussion.
In October, Council agreed to allow the construction of a BMX track at the fairgrounds. Eight months have passed, but there is still no track.
Before October, similar types of tracks were allowed only in C-3, I-1 and I-2 zoning districts.
According to a memorandum from Development Services Director Gary Jeppson to the commission, those interested in building a BMX track have not submitted an application for a conditional use permit. It also says the group expressed several concerns.
They focused on the requirement of a paved parking lot, the fact that a storage container cannot be used as a concession stand without significant modifications, and the requirement that permanent restrooms must be constructed.
City staff plans to provide clarification to the commission regarding why a track has not been built as well as outlining the steps needed for one to be constructed.
A hot topic in Kingman lately is the noise made by certain motor sport events at the fairgrounds. One issue of confusion is the zoning ordinance, 20.200, which governs decibel levels and sound frequency, but fails to outline time limitations. Section 7-208 of Kingman's code of ordinances outlines sound rules regarding time, and it places a 10 p.m. to 7 a.m. moratorium on loud music and noises that can be heard 20 feet from the source.
The commission can initiate a code amendment that either does away with zoning ordinance governing decibel levels or choose to propose a different code section that better meets the needs of the community.
On June 7, Council adopted an ordinance that makes it mandatory for any new subdivisions - regardless of size - to connect to Kingman's sewer system. The commission will need to amend the subdivision ordinance that governs sewer facilities in order to avoid conflicts with utility regulations, according to the commission's agenda.
The commission will also review a conditional use permit request from William and Linda Cockney and property owner Jim Ott to allow an indoor/outdoor swap meet on Airway Avenue.
The meeting starts at 6 p.m. Tuesday on 310 N. Fourth St.