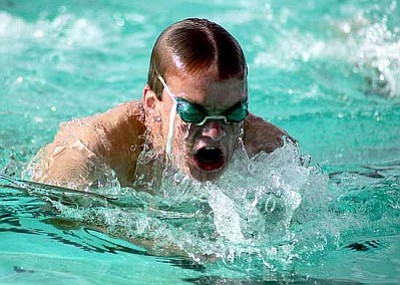 Originally Published: June 17, 2011 6:01 a.m.
KINGMAN - The Kingman Dolphins picked up where they left off last week in the Beat the Heat meet in Flagstaff when they traveled to Needles, Calif., for a dual.
The Dolphins had eight swimmers finish first in 16 events, including Diego Narvarte, who won all his races.
"I am very happy with our swimmers. We are working hard as a team, and it shows at the meets," Dolphins coach Beth Mathe said.
Narvarte finished first in the boys 9-10 100-meter individual medley, 50 butterfly, 50 backstroke, 50 breaststroke and the 50 freestyle.
Jacob Miyauchi placed first in three events in the boys 13-14 division. Miyauchi won the 100 individual medley, 50 backstroke and 50 breast stroke.
Rebecca Ramirez had three first place finishes in the girls 7-9 division. Ramirez won the 100 individual medley, 25 butterfly and 25 backstroke.
Other first place finishers were: boys 7-8, Gabriel Otero, 25 backstroke and 25 freestyle; girls 9-10, Shelia Ramirez, 50 butterfly; girls 7-8, Olivia Tribbett, 25 breaststroke; and boys 15-18, Patrick Tribbett, 50 backstroke.
The Dolphins will travel to the Bullhead City Invitational Saturday and Sunday before hosting a Swim-o-Rama fundraiser 6 p.m. Tuesday at Centennial Pool.