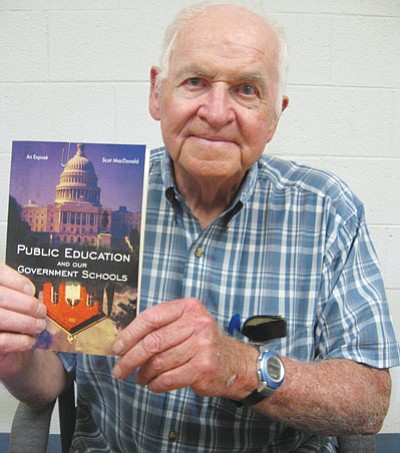 Originally Published: June 20, 2011 6:03 a.m.
KINGMAN - A local man with 30 years experience as an educator and educational psychologist has written "Public education and our Government Schools - an Expose," a book set for official release by Tate Publishing on July 19.
Scot MacDonald worked as a teacher in California public schools and ran a clinic that focused on diagnosing learning problems and prescribing remedies tailored to each individual child. His expertise led him to write this book, which he said outlines problems within the public school system as well as possible solutions.
He sees three fundamental problems within public education.
First, there are far too many single-parent families, MacDonald said. Often, there is no father in the home to provide discipline and help create a foundation for the child. This puts the onus on teachers to create structure for students, which they don't often do, he said.
Next, MacDonald said God has been completely omitted from society. This is a problem because religion often places limits on behavior and encourages accountability, he said.
Lastly, social promotion is a problem. Children are being moved from grade to grade without having the necessary skills needed to succeed at the next level, MacDonald said.
In a March interview with the Miner, Kingman Unified School District Superintendent Roger Jacks said it's a big issue when students get promoted despite not being academically ready. They get to stay with their peers, but academic deficits don't disappear.
Jacks' solution focuses on the vertical alignment of KUSD's K-12 curriculum. Vertical alignment would allow the district to measure students against standards set for all grades and build a curriculum that flows nicely and accounts for students' transitional needs. As is, the transitions from elementary to middle school and middle school to high school are disjointed, which makes it hard for educators to map progression and prescribe remedies if needed, Jacks said.
"Vertical alignment would make it so everything fits together," Jacks said. "It would also help us keep our fingers on the pulse of the district."
Currently, kindergarten teachers are incredibly important, MacDonald said. They are the ones forced to create structure and a foundation kids can build on each year of their educational lives.
"Teachers used to take it personally when students didn't succeed," MacDonald said. "And I don't think teachers - particularly younger ones - take their work seriously."
One of MacDonald's solutions focuses on the need for more vocational programs. Kids are waking up in third- and fourth-grade realizing that they're falling behind their peers academically, he said. It makes sense to give those kids opportunities to find success, be it wood shop, metalwork or some other type of vocational program.
Vocational classes are not a cure-all, MacDonald said, but they can make struggling children's days more pleasant, offer avenues for success and perhaps even motivate them to strive further in their academic classes.
"Success breeds success," MacDonald said.
As a child, MacDonald attended a vocational school back east. He said it was metalwork in the morning and academics in the afternoon.
"It was the only thing that kept me in school," he said.
It doesn't make sense to keep a child in school till their 18 studying academics they don't want to study, he said. More schools need to offer skill-based education, so that kids have something to take with them when they leave, he said.
The Western Arizona Vocational Education No. 50, which is a joint technological education district serving five high schools in Mohave and La Paz counties, does exactly what MacDonald calls for in his book.
According to WAVE's website, the district provides high quality vocational and technical education needed in the public school system to keep students in school and better prepare them for the workforce.
At Kingman High, several career and technical education courses are offered through WAVE, including but not limited to cabinet making, sports medicine, culinary arts and architectural/mechanical drafting and design. Next year, Certified Nursing Assistant course will be offered as well.
WAVE Superintendent Betsy Parker said CTE courses are important because they prepare students for careers and college. Opportunities abound for students who graduate the business and computer courses, Parker said. For example, several students who graduated from Lake Havasu High last year are already managing multiple websites.
"Not everyone is geared for four years of academics," Parker said. "I see career-based courses as the future of education; we need to prepare these kids for something."
As for MacDonald's book, it can be purchased for $16 by sending him an email at smacdonald3@frontier.com. Once its official release date hits, people can purchase it through Tate Publishing and other booksellers.
MacDonald will be signing copies of the book on July 23 at Bullhead City's Firehouse Coffee Company at 2350 Miracle Mile, No. 306.
"People may not agree with a lot of things in the book," MacDonald said. "But if I couldn't write what I felt, I wouldn't be true to myself."
More like this story