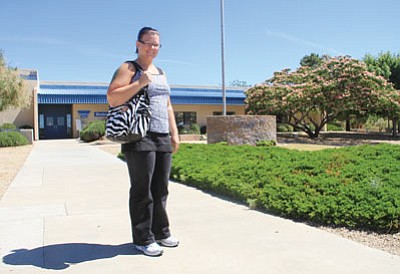 Originally Published: June 22, 2011 6:01 a.m.
KINGMAN - When a Lake Havasu man was arrested last week for allegedly making threats toward Mohave Community College officials, it brought to the surface student complaints against the school often associated with financial aid.
Michael Kearns, MCC's president, said ever-changing federal regulations regarding financial aid causes much frustration among students.
MCC has the highest rate of defaulted loans in the country when compared to similar schools, Kearns said.
The school's current draft rate - an unofficial cohort default rate - is 25.8 percent for 2009. Official rates take two years into consideration for calculations because that is the amount of time a cohort takes to complete expected programs, explained MCC's financial aid director Bill Osborn. The official default rate in 2006 was 11 percent, in 2007 is was 20.2 percent and in 2008 it was 15.7 percent.
In order to continue offering student loans, MCC must keep the rate under 25 percent for three consecutive years, Osborn explained. If it cannot do so, the school would lose all federal financial aid for three years. If the default rate exceeds 40 percent for one year, the school immediately loses direct loan eligibility.
In order to not lose its federal aid eligibility, MCC implemented a management plan in 2008 to try and educate students about the responsibilities of borrowing.
"It is difficult to know if the measures taken will be sufficient to reduce MCC's default rate," Osborn explained. "However, the college will award $26 million in financial aid during the (2011-2012) academic year. The loss of these funds would be catastrophic to MCC and the local economy."
In 2014, the federal government will move to a three-year rate, and MCC's trial rate for 2008 is 34.6 percent, Osborn explained. If in 2014, the school rate exceeds 30 percent for three consecutive years, the school will lose all financial aid eligibility, he said.
Recent financial aid regulations handed down by the federal government make it so students cannot walk into schools and walk out with a check, Kearns said.
Newer regulations include satisfactory academic progress, limits to classes students receive money for, a declared degree requirement, limits to credit hours and the requirement that paperwork must be in on time.
With the limit on credit hours, students cannot receive financial aid if they exceed 1.5 times the credit hours of their academic program. So, students in a 60 credit-hour program cannot exceed 90 hours of attempted credits and still get financial aid, Kearns said.
Some students are unhappy with the extensive requirements, but others are frustrated because they cannot work the school for money anymore, Kearns said.
Former MCC student and current City Council member Erin Cochran said students used to get financial aid checks two weeks before school started, many of them worked the school over by not showing up for classes, not doing their work and even dropping out. Those students are selfish and immature, and their actions affect the economy in negative ways, Cochran said.
As a result, the school started issuing checks two weeks into the semester instead, which Cochran said led to a lot of frustration among all types of students - not just those looking for a payday.
People expect financial aid, but when they realize the requirements, they get frustrated. For instance, Cochran was 24, in school and married with children, yet the school continued to ask her to divulge her parents' income. This frustrated her but after explaining the situation multiple times, the issue was resolved.
Students need to realize that MCC is at the mercy of federal regulations, Kearns said.
He also explained that nearly all complaints made to the school have some sort of financial aid twist and often reveal only a portion of the story. Even so, the school works to resolve all issues, he said. Kearns looks for complaint patterns before enacting changes to procedures, however. One student's complaint is not always representative of the majority, but if changes to procedure are made based on that one student, he or she has just been elevated to represent a majority of students, he said.
As for claims that MCC is not student friendly, Kearns disagrees. The school is a learning-centered environment focused on graduating students and striving to provide good customer service, he said. Without students, there's no school.
Cochran said the people who worked in financial aid when she was a student were wonderful, but that doesn't mean good customer service is the trademark of all MCC departments. She ran into problems with student workers.
At a registration workshop, Cochran was told she needed to stay for the entire 2-3 hour workshop in order to sign up for classes. Moments later, the student worker received a call and told the caller it was fine to come in at a specific time to register. When the student got off the phone, Cochran asked why that person got a designated time. The student replied: "That was a friend of mine."
Cochran said her few problems with the school centered on the mess that is registration, and the often rude and under-trained student workers.
As for complaints, Cochran said following the process or even speaking to administration yielded results. She admits, however, being student body president and having a good rapport with the school may have helped.
According to MCC's student handbook, students with complaints need to make them within 30 days of the incident to an academic chair, director or campus dean who will offer advice and a possible resolution. If that is not enough, students can escalate their complaints to the next level, where the grievance will be forwarded to the person involved in the situation the student is complaining about. At that point, a school official will sit down with both parties and try to work out a resolution. If the student is still unhappy, the complaint is escalated once again, and the campus dean conducts a formal investigation into the incident. Once the investigation is over, the campus dean can choose to offer a resolution, dismiss the grievance or take appropriate action.
Travis Lingenfelter, a member of MCC's board of governors, said frustration comes with the territory of being a student. But instead of making threats - like the Havasu student did - students need to follow the grievance procedure. Legitimate complaints get escalated until a resolution is found, Lingenfelter said.
There are plenty of satisfied MCC students and graduates, Kearns said. For the ones who are not satisfied, they need to ask themselves if their discord stems from the school's actions or unrealistic expectations, he said. The goal is to have student perception and the school's procedures match, but that is hard to accomplish when federal regulations change so often.