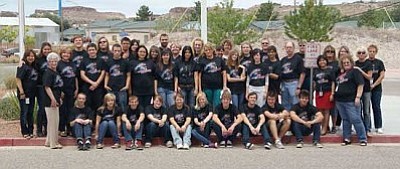 Originally Published: June 24, 2011 6 a.m.
KINGMAN - Mohave County's COalition YOuth TEam (COYOTE) program has prepared 66 youths, ages 14 to 21, to enter the workforce.
"This is the eighth year the Mohave County Community Services Department has coordinated this program," County Youth Program Coordinator Hannah Arellano said June 17. "Countywide, we have 66 participants; 26 in Kingman, 22 in Lake Havasu City and 18 in Bullhead City."
The youths completed the two-week Work Readiness Workshop portion of the program June 17.
"During that time, the young men and women were in the classroom studying work-readiness skills," she said. "They had instruction on not only how to find a job, but how to keep a job. They learned how to write a resume, how to complete an application and how to interview. They also received instruction on the importance of having a good attitude, dressing appropriately and being punctual on the job."
The COYOTE youths had their first day on the job Monday.
"For the remaining six weeks, they will be on the job with their supervisors," Arellano said. "We have around 20 employers we have partnered with to mentor the youth as they learn occupational skills."
During prior years, many young COYOTEs have performed their duties so well that employers have offered them regular jobs at the end of the program.
"Usually it is the older youths who have finished high school or obtained General Educational Development (GED) diplomas that are offered jobs," She said. "We have had young people complete the program and be hired by UniSource, Kingman Regional Medical Center, an accounting firm, a credit union, and many more."
Arellano believes the COYOTE program is valuable to the community.
"This is a great program," she said. "I love it. Now that's easy for me to say because I work here and I see the progress these young people have. But our partners, the employers, also value this program. Our community supports it. We have individual community members who have championed the program and the individual youths."