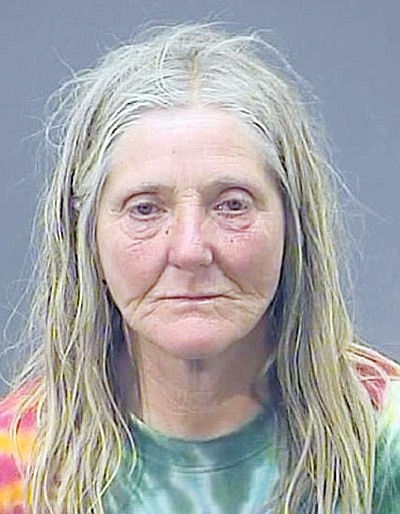 Originally Published: June 26, 2011 6:01 a.m.
KINGMAN - A call from a concerned UniSource employee earlier this week prompted an investigation that led to the arrest of a Golden Valley woman who is being charged with felony mistreatment of animals.
The employee's mother contacted the Miner Wednesday about a ranch on Ida Road off of Hermit Drive, where the UniSource employee saw at least one horse and numerous other animals that appeared to be malnourished and in pain.
The Miner contacted Trish Carter, spokeswoman for the Mohave County Sheriff's Office, who had deputies and animal control officers dispatched to the ranch within the hour.
Carter said the officials were shocked by what they found.
One horse was found near death lying on the ground unable to get up. That horse was euthanized on scene by a local veterinarian because of the animal's poor condition.
Several other animals were also found dead on the property. One goat was transported for emergency medical treatment but passed away that evening.
The ranch's owner, 60-year-old Jeanine Ann Cook, was arrested and charged with felony reckless cruel mistreatment and 60 misdemeanor counts of letting the animals roam outside of her property. Cook was reportedly operating a no-kill animal sanctuary, "Pleasant Farms," without a permit.
Cook surrendered the majority of her pets and livestock. The animals included 110 goats, a potbelly pig, the horse and an emu. The animals were turned over to the Arizona Department of Livestock.
Local ranchers assisted in the transport of the goats from the scene to a temporary holding area where a local veterinarian inspected the livestock for possible communicable diseases and conditions that would prevent the animal from being safely transported to the state holding facility.
One goat had to be euthanized and a baby goat passed away at the temporary holding facility.
Animals that were diagnosed to be infirm or too aged to travel were placed with local rescues.
Mohave County Planning and Zoning has been notified and an ongoing investigation may result in more charges, Carter said.
Cook's neighbor, who asked not to be named, said she and her husband had tried to care for the animals by bringing over food and water. She said she had notified authorities in the past about the slow, painful deaths she was witnessing. She said there was a healthy mule that was on the property for just two months before it died.
She added that the property was filthy and unfit for animals or humans.
"You think the landfill is bad, you have to see this to believe it," she said.