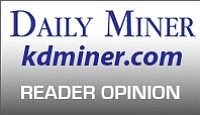 Originally Published: June 27, 2011 6:01 a.m.
I recently came to Kingman, riding my motorcycle, planning to spend one night in a motel before continuing my journey east to Virginia. However, fate intervened, as I pulled a muscle in my leg as I got back on my motorcycle for the short ride from the lobby to my room at the Motel 6. I had been riding for too long in one position as I crossed the Mojave Desert and the muscle in my leg had "frozen." I was barely able to walk and my leg got progressively worse as the night passed.
The next day was my true introduction to Kingman. I needed to find an urgent care facility and I needed a cab. The cab driver was so considerate of my injured leg. The urgent care people were wonderful. A second cab came to take me back and while being driven back, the first cab driver called to see how I was doing. The next morning, I felt I could continue but decided to get a massage as I felt that might help my leg. The massage therapist "fitted me in," which I suspect meant that she came to work early and I was treated with great skill that really helped with the stiffness and pain.
During my stay in Kingman, I was treated similarly by everyone I dealt with from restaurant staff to the UPS store from where I shipped some excess luggage. As I tell friends about my motorcycle ride vacation, I seem to dwell longest on my rather painful stay in Kingman. Yet it is one of my favorite memories of the trip. Everyone was very kind to a fleeting visitor.
John Porter
Thousand Oaks, Calif.