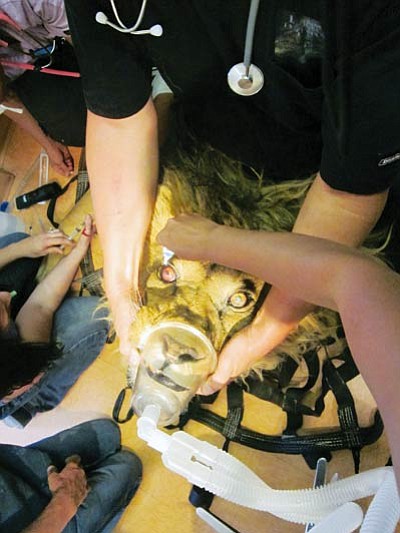 Originally Published: June 29, 2011 6:01 a.m.
KINGMAN - A 10-year-old African lion is on the mend after an eye injury.
"Sultan" made the trip from his home at Keepers of the Wild in Valentine to the Kingman Animal Hospital June 22 to treat a cut in one of his eyes.
Jonathan Kraft, founder and director of the animal rescue sanctuary, said keepers aren't sure how Sultan injured his eye. They suspect he may have poked it on a piece of fencing or a stick. Keepers became aware of the injury when they noticed the eye was swollen and red.
Staff at Kingman Animal Hospital, Keepers of the Wild's main veterinarians for the last nine years, had extra time last week to come look at the lion after a horse owner canceled their appointment. Certified Veterinarian Technician Ruby Duey said the decision was made on the spot to transport the animal to Kingman.
Most of the big cats will walk right into their transport cage for the ride to the hospital, but Sultan has become a little more cranky in his old age, Duey said.
"He's a bit difficult," she said. "He doesn't like us."
The vets used a tranquilizer dart to subdue Sultan for his ride to Kingman. Once at the hospital, it took several men to carry Sultan with a cargo net underneath him to the surgery room.
Sultan was anesthetized with the same isofluorane gas used to prepare humans for medical procedures. Duey said the surgery, which lasted around two hours, was without complications. The vets also took advantage of the situation to give Sultan his annual check-up and vaccinations so he wouldn't have to endure the stress of another trip to the hospital.
For that same reason, staff used self-absorbing stitches when they sewed Sultan's eyelid over his repaired eye.
Duey said she checked on Sultan earlier this week. He is now back at home and a little tired, but his eye appears to be healing for the time being. If the eye becomes infected, it's possible it will have to be removed, she said.
Duey said the animal hospital performs procedures at cost to the animal rescue sanctuary and reminded residents to help support the non-profit by visiting Keepers of the Wild and passing on their get well-wishes to Sultan himself. For more information on the sanctuary, visit www.keepersofthewild.org.