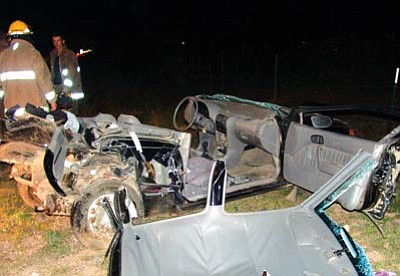 Originally Published: June 29, 2011 6:01 a.m.
KINGMAN - An 83-year-old Wikieup man has been indicted on negligent homicide charges in connection with an April traffic accident that killed a Golden Valley woman.
Irving Poissant was indicted by the grand jury June 23 on the homicide charge, as well as one felony count of leaving the scene of an accident resulting in death.
Authorities said they found Poissant in his truck at the Sonic Drive-In more than a mile from the scene of where he rammed into the back of a car driven by 61-year-old Ronald Doty of Golden Valley shortly after Doty pulled onto eastbound Highway 68 around 7:15 p.m. April 1.
Doty's wife, Jill, who was in the passenger seat, was killed. Ronald Doty suffered non life-threatening injuries.
No explanation has been given as to why Poissant did not stop.
The prosecutor handling the case is unavailable for comment this week.
Poissant has not been arrested. He will be arraigned in court Thursday.