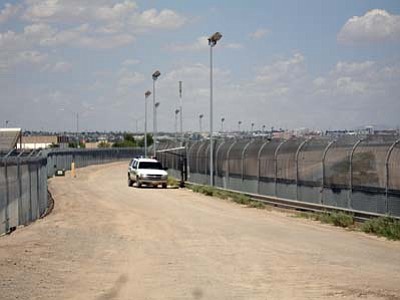 Originally Published: March 1, 2011 6:01 a.m.
KINGMAN - The Legislature is considering five immigration bills that would govern who is an Arizona citizen, punitive court damages, public housing, food service workers, public benefits and driving privileges in the state.
Senate Bill 1611 is the most sweeping of the immigration bills. It contains changes to state statutes requiring proof of citizenship in order to apply for all state and federal public benefits such as the Arizona Health Care Cost Containment System, the state's retirement system, commercial or professional licenses and other services "widely available to the general population as whole."
It also requires a public housing authority, city, town or county to require that a person who is applying for public housing to provide proof of citizenship or qualified alien status and prohibits any PHA from offering public housing to any person who can't prove their citizenship status. The bill also requires a PHA to evict all residents of a home operated or managed by the PHA, if a resident of the unit shelters a person who is in the U.S. illegally.
The bill makes it illegal for a person to drive a motor vehicle in Arizona if they are not a legal resident or citizen of the U.S., If a person is convicted of driving in Arizona while being in the state illegally, the person will forfeit the vehicle, spend 30 days in jail without the option of probation until the sentence is served and have to pay their incarceration costs. All money from the sale of the vehicle and other property that is forfeited goes to the state General Fund.
The bill also requires a person to submit proof of citizenship or legal status to the Arizona Department of Transportation when they register a vehicle. An Arizona drivers' license issued before Oct. 1, 1996 is evidence of citizenship.
The bill also:
• Requires the Arizona Attorney General to serve notice of noncompliance to all businesses that are not using the federal E-Verify program. If an employer fails to comply within six months, a court can suspend all of the business' licenses until it does comply.
• Requires the courts to sentence someone convicted of aggravated identity theft with the intent to obtain employment to at least 180 days in jail.
• Prohibits a person from being admitted to bail if the person is guilty of a class 5 or 6 felony and there is probable cause the person is in the state illegally.
• Prohibits issuing any state license, permit, certificates, approvals, registrations, charters, etc. if they cannot prove citizenship or legal status.
• Prohibits the Fingerprinting Division of the Department of Public Safety from issuing fingerprint clearance cards if the person has not provided proof of citizenship or status.
• Requires the Arizona Peace Officer Standard and Training Board to revoke the certification of any officer who refuses to uphold the U.S. and Arizona Constitutions and enforce state laws.
Senate Bill 1309 would declare that an Arizona citizen is a person who is born to at least one U.S. citizen and lawfully resides in the state.
House Bill 2191 would prohibit illegal immigrants from collecting punitive damages in court.
Senate Bill 1222 would require all public housing authorities to require proof of citizenship or legal status in order to apply for public housing and requires the department to evict anyone who shelters illegal immigrants in public housing.
Senate Bill 1490 would require counties to check the immigration status of anyone applying for a food handlers' card and prohibit issuing a card to anyone in the state illegally.