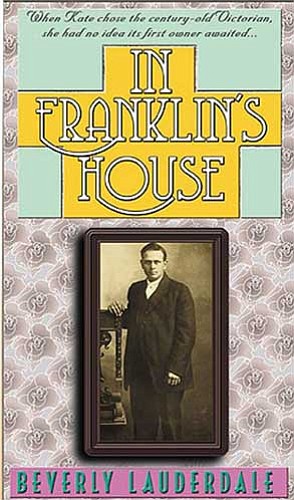 Originally Published: March 4, 2011 6:01 a.m.
"In Franklin's House: A Paranormal Romance" by Beverly Lauderdale; 978-1-892343-62-8; Softcover; $12.95; Novel; 198 Pages; 2010; Published by Oak Tree Press
Was this a poltergeist, apparition, or just a plain old ghost? Our heroine, Kate, relates her unusual experiences in this exciting novel, "In Franklin's House" by Beverly Lauderdale.
Kate's life is turned upside down when she discovers her husband Dan is having an affair with his business partner's wife. When his partner finds out, Dan leaves the company. In an effort to salvage their marriage, Kate and Dan sell their home of many years and relocate from the peaceful confines of an Iowa town to start anew in California.
They purchase a 1905 Victorian house which is badly in need of repairs. Dan is working some distance from the house and commutes daily. Kate is left alone to do the work, schedule workmen, clean, and unpack boxes. As she diligently attempts to make a new home, she is mysteriously compelled to investigate a bedroom in the upstairs. She is mysteriously drawn to a hollow wall in the bedroom's closet where she finds a diary and a rosebud necklace. Curious, she begins to read the diary and discovers it is the musings of a long-deceased occupant of the home. Then she feels a compulsion to try on the necklace.
Suddenly, Franklin the ghost appears and said he was the husband of the woman who wrote the diary. Franklin tells her not to be fearful and assures her that the main reason he is still in the house is that he is attempting to finish his "chapbook" of poetry. Further, he tells her that only she can see him and that she must wear the necklace in order to see him.
Beverly Lauderdale has written an excellent book that will appeal to the feminine side of both men and women. Relationships abound as Kate meets an older hippie woman who works in the library. She lives on a sailboat in the marina and Kate visits her often. A true friendship develops. Then Kate meets the curator of the local museum as she attempts to discover more about Franklin's ghost. Coincidently, the curator is the grandnephew of the deceased Franklin.
What makes this book remarkable is the fact that the ghost takes on a solid form. He helps Kate move furniture, wallpaper, and lift objects that she normally could not do alone. Romance blossoms between the ghost and Kate, but when she discloses this to her librarian friend, she is told that this is just an imaginary happening. Kate does not believe her.
Readers will certainly feel many of the experiences Kate encounters because of the choice of descriptive poetry and prose of the author.
This novel is a tastefully told tale of romance. Highly recommended for readers of both sexes!
Publishers Weekly Best-Sellers Week of Feb. 28
Fiction
1. Tick Tock, by James Patterson & Michael Ledwidge
2. A Discovery of Witches, by Deborah Harkness
3. The Girl Who Kicked the Hornet's Nest, by Stieg Larsson
4. The Help, by Kathryn Stockett;
5. The Confession, by John Grisham
Non-Fiction
1. Unbroken: A World War II Story of Survival, Resilience and Redemption, by Laura Hillenbrand
2. Known and Unknown, by Donald Rumsfeld
3. True You, by Janet Jackson with David Ritz
4. I Beat the Odds, by Michael Oher with Don Yeager
5. Decision Points, by George W. Bush
Clark Isaacs is an accomplished book critic who is published in local newspapers and national book review lists. He is a member of the faculty of Mohave Community College in Kingman. Visit Clark Isaacs at http://clarkisaacs.ning.com and tell him what you would like to have him write about.