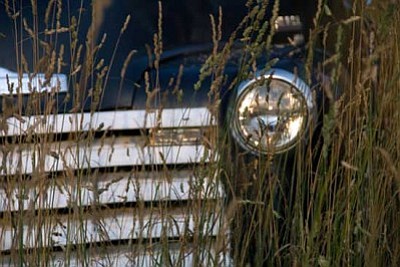 Originally Published: March 4, 2011 6:01 a.m.
KINGMAN - The Kingman City Council on Tuesday approved a new set of ordinances designed to tighten the city's nuisance code and make it a more effective deterrent by imposing mandatory fines for offenders and maximum time frames for code enforcement.
The new ordinances will also change the nuisance abatement process from staff-driven requests to formal court order, switching the appeals body from the City Council to the Magistrate Court. The changes come after several months of discussions between City Attorney Carl Cooper and the Kingman Police Department's Neighborhood Services division, which typically addresses complaints as they are called in.
One stipulation in the ordinances requires code enforcement to give residents no longer than 30 days from the time of an initial complaint to remove their nuisance or face a fine. That time frame can be extended by appealing to the code enforcement officer's superior, but only up to a firm maximum of 60 days, at which point the offending party will be issued a citation.
Fines for a first time offense are set at $150, rising to $250 for a second offense and $500 for each subsequent offense committed within a five-year period. During the initial reading of the item, Cooper noted that those amounts are only the bare minimum that will be collected by the city, and that, after court enhancement fees are included, the actual amount charged to an offender could actually be roughly double that.
"A $150 fine does not mean they pay $150," he said. "They pay almost $300, and we keep the $150. That's just kind of the way it's worked with the fine and surcharges structure."
What funds are collected through fines will be deposited into a special fund to be used to pay for the abatement of nuisances that, for whatever reason, citizens cannot or will not remove themselves. Cooper said that it was difficult to project how much the fines might ultimately bring in for the city, given that they are meant as a deterrent, so the city will probably have to wait and see what happens once the ordinances
have been in effect for a while.
He did note, however, that the existing abatement fund has not been as well funded as the city would like, and the new fine structure might help it along.
By shifting the appeals process from the City Council to the Magistrate Court, Cooper said the city will actually be giving citizens a greater opportunity to defend themselves against frivolous claims, since they will be able to have a formal hearing with the city. The current situation, he said, only requires the city to petition the court for a warrant to clean up the property, effectively shutting property owners out of the process.
"It doesn't allow that property owner any right to be involved in that court process," Cooper said. "What this (ordinance) does is, instead of going and filing for a warrant and having the appellate process through the Council, we go straight to the Municipal Court for a court order. So a petition is filed, and there'll be a hearing where the city is present as well as the property owner, so we can present the facts and the judge makes a determination whether the abatement is warranted."
Cooper noted that revision of the nuisance code will continue to be an ongoing process. Currently, his office's biggest challenge will be determining how the code should define exactly what constitutes a nuisance and what doesn't. But this first step toward tightening the enforcement process drew praise from Linda French, co-founder of a local neighborhood advocacy group Residents Reclaiming our Neighborhoods.
"Mr. Cooper has put a lot of effort into this thoughtful draft of revisions," French said. "I'm really encouraged that an increase in fees and an escalating fee schedule for cited violations has been included. This was a really important recommendation from the Clean City Commission that warranted inclusion, and I'm really pleased to see it."
French said she did have one concern in the wording of a section of one of the three new ordinances that used the word "may" rather than "shall" in detailing the enforcement options available to neighborhood services officers. She explained that, back in August, the Clean City Commission had agreed the word "shall" carried more teeth than "may" and encouraged Council to adopt the change in wording.
Cooper explained that the word "may" gave officers an option between initiating an abatement or writing a ticket right away for a perceived nuisance, or simply issuing an initial verbal warning. He said by putting the word "shall" in, it would take away that officer discretion.
But Salem said he would be willing to make the change with the knowledge that, if it didn't work out to Council's satisfaction, they could always change it back.
"We need to clean this place up," Salem said. "And this is a step in the right direction."
The changes to the nuisance code were passed in three ordinances through three separate votes, though each vote was unanimously in favor.
More like this story