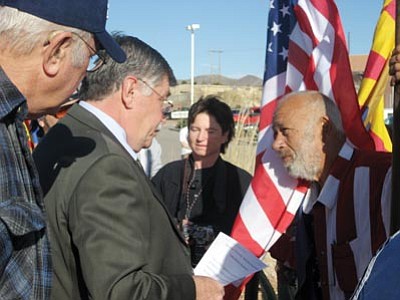 Originally Published: March 8, 2011 6:01 a.m.
KINGMAN - A Golden Valley man's attempt to push the boundaries of the county's dress code policy at Monday's Board of Supervisors meeting got him what he wanted, arrested. Jim Kanelos, 62, was booked on charges of second-degree misdemeanor trespassing for violating the county's dress code policy for wearing a hat and waving a flag during Monday's meeting. He was still in custody Monday afternoon.
Kanelos asked to speak on a change to the planning and zoning ordinances on the Board's agenda. When he reached the speaker's podium, he pulled out a small American flag and plopped a cap decorated with the stars and stripes on his head.
"God bless America, and by the way I'm for this resolution," he said, waving the flag before he was surrounded by Mohave County deputies.
"Mr. Kanelos, we have rules about hats and flags in the building," County Supervisor Gary Watson said sternly.
County Security Coordinator Bob Prince asked Kanelos if he would remove the hat and put away the flag. Kanelos said, "No."
Prince then asked him if he would consider leaving the auditorium and warned him that he risked arrest for trespassing if he refused.
When Kanelos refused to leave, deputies placed him in handcuffs and led him out of the building.
Kanelos was part of a group of about 15 people who protested the county's dress code and flag and gun policies outside the county administration building Monday morning with flags. A few of the protesters were wearing guns and at least one was carrying a pitchfork.
Deputies were on hand to make sure things didn't get out of control. Two deputies watched from the edge of the crowd, two more deputies stood near the doors to the building and at least three more watched from just inside the building.
Prince calmly warned members of the group, including Kanelos, several times that they could not protest in front of the building and needed to move further down the road to a designated area in the public right of way. If they did not move they faced arrest for trespassing, he said.
Someone asked who owned the property that the building was standing on.
"Mohave County," Prince said.
"So we're getting kicked off of public property while holding American flags," said Golden Valley resident Alan DiCicco.
Prince also warned Kanelos and the others that they could not bring their flags inside the building.
"I think you people are totally misinformed," he said. He offered several times to meet with members of the group to discuss their issues with the county's policies.
A protestor asked if the group could bring a video camera with them to the meeting.
Prince said he was willing to let the group tape the meeting.
"You better start looking for a new job now, because I plan to run for county supervisor in 2012," said Kingman resident Sharon Holmes.
"Are you threatening me and my job?" Prince asked.
"I'm just saying you might want to start looking, and take (County Manager Ron) Walker with you," she said. "The people of this county want to be heard."
Members of the group dispersed just before the Board meeting to stow their flags and weapons in their vehicles.