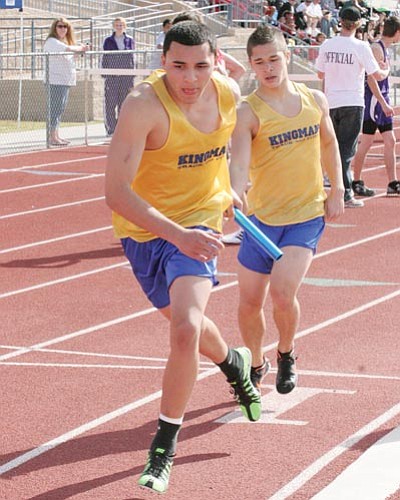 Originally Published: March 9, 2011 6:01 a.m.
KINGMAN - Willie Valdez just keeps plugging along for the Kingman High boys track team.
Valdez, a junior, led the Bulldogs to a second-place finish at the 10-team 2011 London Bridge Rotary Invitational Saturday in Lake Havasu City.
The Bulldogs ended 92 points behind meet winner Yuma Cibola, but were 71 points ahead of third-place Havasu.
"Keeping Willie healthy is something we have to work on," KHS coach Anne Bathauer said. "He can push himself so hard he hurts himself."
Valdez won the 110-meter hurdles in 15.84 seconds, and he captured the 300 hurdles in 43.30. He was second in the long jump with a leap of 20 feet, 1/4 inch. Valdez was also second in the triple jump at 42-07.
Cibola won each of the other individual events at the meet, and KHS athletes grabbed several runner-up spots. Senior Trey Anthony was second in the 200 in 23.53, and junior David Haun was second in the 800 and 1,600 with times of 2:06.08 and 4:50.77, respectively. Sophomore Christian Gutierrez was second in the discus throw with a heave of 129 feet, 1 inch.
"The boys team isn't at full strength yet," Bathauer said. "We have the right amount of experience and leadership for the younger kids. These kids at the lower end have talent and will do great for us."
On the girls side, the Lady Bulldogs came in third behind Cibola and Havasu. Cibola won with 117.5 points, Havasu had 110 and KHS finished with 108.5.
Sophomore Paige Cardiff won the 800 in 2:25.52 and 1,600 in 5:20.39. The way she anchored the Lady Bulldogs in the 4x800 thrilled the crowd in Havasu.
When Cardiff took the baton for the last 800, KHS was in third place and 200 meters behind. Cardiff ran down Cibola's Michelle Soto to get the win for the Lady Bulldogs in a time of 10:26.63 and won the race by nearly eight seconds.
"Paige was like a hunter stalking its prey," Bathauer said. "She's very intense and leaves everything out on the track."
Senior Tannia Winegar won the high jump for KHS at 4-10, and senior Ruth Bushman took the long jump at 14-4 1/2.
"We have a lot of new girls who we're teaching," the coach said. "I think we'll have some real strength in our girls' future."
KHS is in Phoenix to face Goldwater today and will host Anthem Boulder Creek and Phoenix Maryvale at 3:30 p.m. Wednesday, March 23.