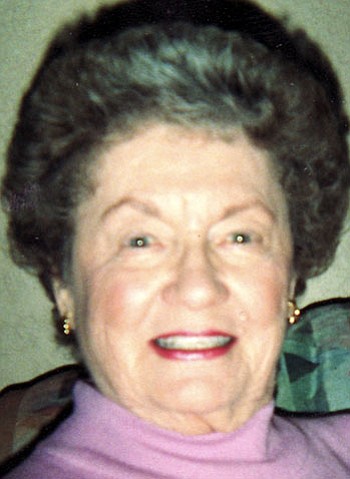 Originally Published: March 15, 2011 6 a.m.
Mary Louise "M.L." McCann, age 86, passed away on Sunday, March 13, 2011. She was born Aug. 12, 1924, in Monmouth, Ill., to Florence and Glenn Overholser. She attended Garfield Grade School, Junior High and Monmouth High School, graduating in 1942. While in high school she was active in music contests, class plays and cheerleading for all four years.
While in her senior year she met Frank McCann, who was four years older, and fell in love. Due to the recent Pearl Harbor bombing, Frank enlisted in the Army, leaving for the service June 30, 1942, and stationed in San Antonio, Texas. He came home for a short four-day leave in February '43, so they eloped to Missouri Feb. 27, 1943. He returned to Texas; she joined him a few months later and she accompanied him to various camps in the U.S. until he shipped out for the European Theater. She then returned to Illinois, resuming her secretarial job with a large insurance company and later in a legal office where she remained until the birth of their son, Jeffery Scott. She then became a stay-at-home mom until moving to Arizona, ending up finally in Kingman, where she went to work for Valley National Bank in October 1959, and remained there for 25 years, starting as the manager's secretary, later becoming an officer, and finishing up in the bank's regional office where she traveled around to their 27 branches in the Northwest Region until her retirement in 1984. She and her husband, Frank, then traveled in an RV for six years throughout the U.S. and Canada.
M.L. loved music, especially the WW II big bands and also smooth jazz. She loved her family dearly: son, Scott and wife Sharon; her son, Corey; their son, Nick. Nick was like an extended son to Frank and M.L., where he was ready at all times to help his grandparents.
M.L. made so many great friends in Kingman through her years in banking, Eastern Star, past president of Legion Auxiliary in Monmouth, church choir in Kingman and Monmouth also, and Elks Club.
She leaves behind her son, J. Scott; his wife, Sharon; grandson, Corey Grasser; grandson, Nick; his wife, Nichole; her children, Makayla and Chase; and her great-granddaughter, due momentarily. She leaves a niece, Glenna See of San Marcos, Calif., and nephew, Gary See of Mount Pleasant, Iowa, and his three grown children and grandchildren in the Iowa area. There are numerous distant out-of-state cousins.
It is her wish to have no services of any kind. She is to be cremated and her ashes will be spread together with the ashes of her husband Frank, who passed away Jan. 5, 2006.