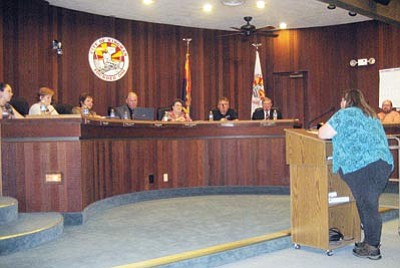 Originally Published: March 17, 2011 6:01 a.m.
KINGMAN - A sales tax increase could be a last ditch but necessary measure to balance the city's budget. Council discussed a variety of sales tax options during Tuesday night's meeting but left the final decision for the April budget meeting.
City Financial Services Director Coral Loyd explained that income from the state's Highway User Revenue Fund and local sales tax revenue had declined over the past several years.
City Manger Jack Kramer warned that the Arizona Legislature was talking about a $150 million cut in funding to cities and counties.
Loyd said the current Kingman sales tax rate is 2 percent. If the city raised it by 0.15 percent, it could expect to take in an estimated additional $787,500 a year. If it raised it by 0.25 percent the city could expect an additional $1.3 million. If the city raised the tax by 0.5 percent, bringing the combined sales tax rate up to 9.35 percent, it would generate an additional $2.6 million, she said.
There were are options to increase the sales tax rate, Loyd said. The city could increase the sales tax on all items purchased in the city or it could raise or create a tax on a single item or service within the city, such as hotel stays, bar/restaurant bills, food or it could raise the tax rate on one item and lower it on another, she said.
Resident Harley Pettit felt that an across the board sales tax increase would be the fairest option. A restaurant/bar tax might be a good idea since people could opt out of it by not going out to eat, and visitors coming into town would add revenue.
There was no easy way to solve the budget problem, said resident Herberta Schroeder. A food tax would hurt people who use food stamps but a property tax would make better sense.
Chamber President and CEO Pam Wilkinson said the chamber recently completed a survey of local businesses about the sale tax idea. Many felt that the city was trying to balance its budget on the backs of business. Car dealerships were afraid people would buy elsewhere. The hotels and motels were worried it would put them at the same price level as Laughlin, and they wouldn't be able to compete, she said.
Most of the council members rejected the idea of a food tax outright, saying that taxing food would put an undue burden on families.
Councilwoman Carole Young said she wasn't keen on raising the general sales tax because the people who couldn't afford a food tax wouldn't be able to afford a tax increase on clothing, shoes or other necessities. She also didn't like the idea of raising the bed tax since the city's hotels wouldn't be able to compete.
Young was concerned about a projected $2.2 million deficit for public safety services and suggested putting a bond before the voters.
Councilwoman Janet Watson said a bond wouldn't help because bond funds can only be used for capital projects, not for hiring staff.
Mayor John Salem said a property tax dedicated just for the fire department might be an idea.
Councilwoman Robin Gordon reminded him that a property tax would have to be approved by voters.
"We have to be realistic and say that the likelihood of a property tax being put before voters and being passed favorably is not very good, and I think would be a waste of time," she said.
Councilman Keith Walker said he didn't want to hurt businesses more than they already were by increasing the general sales tax. He agreed that a food tax was out of the question and a property tax probably wouldn't pass. A bar/restaurant tax with a sunset clause, with the funds marked only for road improvements might be a solution, he said.
"Perhaps I was a little premature in recommending an immediate change in the sales tax," Salem said. "In light of several letters, phone calls, e-mails and letters to the newspaper, perhaps my excitement was a knee jerk reaction. However, I'm not apologizing for it. It would be irresponsible for us not to look at all options. The public has asked us to cut and I have to agree with them."
Council and staff have been looking at every possible area to make cuts, he said. Council has also been accused of not making cuts in its own budget, but Salem said he planned to propose $80,000 in cuts to Council's budget at the April budget meeting.
Salem said he was committed to making more reductions in the city's budget before going to the residents for more money.
More like this story