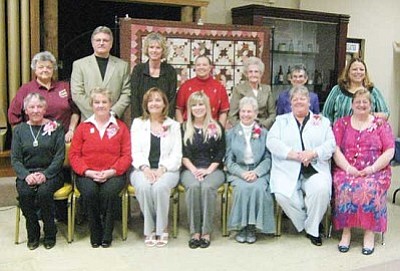 Originally Published: March 18, 2011 9:15 a.m.
Women Making History/Courtesy
Kingman's Women Making History awards were presented March 6 at the Mohave Museum of History and Arts. Pictured above are the recipients seated in front of the person who nominated them. In the front row, from left and in the categories for which they were honored, are Sandy Spruiell for Animal Rescue; Marty Adams for Professions; Regina Cobb for Business; Tracie Padilla for Public Service; Edna Zumwalt Dinwiddie for Pioneering; Penny White for Volunteerism and Sally Marquardt for Education. Back row: Mary Griffis, Keith Adams, Betsy Parker, BJ Thayer, Dorothy Brown, Sue Snell and Girlie Forman. The annual occasion recognizes local women who have made an important, positive and continual impact on our community in their fields. A large crowd attended the ceremony and all were entertained by the female singing group The Distraction. This year's event was dedicated to Ann Winters, who recently passed away. Ann was one of the Founders of and the historian for Women Making History in Kingman. A quilt created by Karin Goudy was raffled off, with all proceeds going towards the WMH scholarship fund.
More like this story