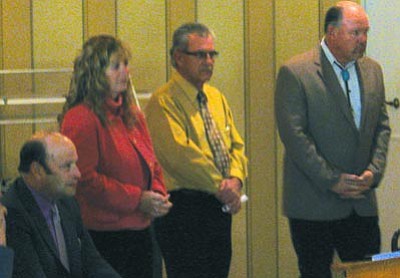 Originally Published: March 23, 2011 5:59 a.m.
KINGMAN - With City Council's April budget meeting looming, local officials continue to discuss with each other and the community the options they have to increase revenue and decrease the budget deficit.
Mayor John Salem, City Manager Jack Kramer and Financial Services Director Coral Loyd spoke Monday at the Republican Men's Club meeting about the many budget challenges facing the city as well as possible solutions.
One of the challenges is that the state made sweeping cuts to city and county budgets throughout Arizona. As a result, a total of nearly $9 million was cut from Kingman's general fund budget over the last three years. The general fund, which is largely funded by sales tax revenue, will continue to sport a deficit - despite the cuts - because it's used primarily to meet infrastructure needs, including but not limited to police, fire services and road maintenance. The police and fire budgets come to roughly $12.5 million, explained Salem, but the city only collects $10.5 million in sales tax revenue.
The city's chip-sealing program, which fixes problems with streets as they occur rather than replacing them when they fall into complete disrepair, took a big hit, said Salem. The program is so far behind that it is still working on its 2007 agenda. Salem estimates it costs $7,600 per mile to fix chips and cracks as they occur and $250,000 per mile to completely replace a road. As if the disparity in cost wasn't compelling enough, Salem said streets that receive regular maintenance have 20-30 year lives while streets that receive little or no maintenance live for only a decade.
Kingman is used to quality and service levels that will decrease if something isn't done, said Salem. Difficult decisions must be made if the city plans on operating for longer than the next two fiscal cycles, he added.
Kramer reiterated Salem's point when he said that the city needs a revenue source - at some point - to fix its streets. When a city falls behind in street repair, Kramer said it costs millions to catch up.
Since the city can't use the sewer or construction funds to boost the general fund, Loyd said changes must be made.
Changes can come in the form of a sales tax increase, the creation of a city-based property tax, privatization of some services and more cuts to city expenditures. Salem said the city plans to explore all avenues of change. "We're just looking, paying attention and doing our jobs," said Salem.
What is necessary? What is unnecessary, Salem asked. There is plenty more room for cuts.
For example, Salem argued that the city can save up to $70,000 by moving the election cycle into next year's fiscal cycle. To that statement, several people in the audience said: "Do it!"
Lawrence Schiff, president of the Republican Men's Club, said the time for people to step outside their comfort zone is now.
"If we can't think outside the box in this Republican county, then where can we?" asked Schiff.
Salem agreed. If the city can save $5, $10 and $15 here and $5,000, $10,000 and $100,000 there, Salem said that pretty soon you've saved $1 million.
Expenditure cuts, however, will not solve the deficit alone.
Many people in the audience called for the creation of a property tax, which Salem said he agreed with because property tax revenue is much more stable than sales tax revenue.
The process must be explained to the public because ultimately it comes down to what the public wants.
"How do we convince the community to accept property taxes?" Salem asked.