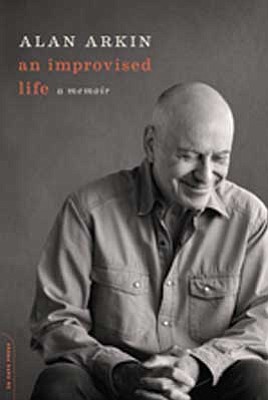 Originally Published: March 25, 2011 6:01 a.m.
"An Improvised Life: A Memoir" by Alan Arkin; 978-0-306-81966-7, 201 Pages; $17; Published March 1, 2011; Softcover; Da Capo Press, a member of the Perseus books group.
Alan Arkin is one of those household names you mention and others immediately recognize. His acting career is so well known, and one which conveys to his audience that whatever he appears in is bound to be good! The same holds true with his book "An Improvised Life, A Memoir," but as you will see, it is certainly more than that.
Alan Arkin was born in Brooklyn on March 26, 1934. His parents encouraged his acting career from the time he was 5 years old. His father took him to see theater, and Alan says he knew from that early exposure he wanted to be an actor.
These early years were hectic as he learned his craft. He went to an all-girls school in Vermont (Bennington) on a scholarship as they needed to have male actors as a part of their repertoire in presenting plays. Arkin's previous academics were not outstanding, but he describes his acceptance as being easy as he became a drinking partner with the head of the English Department who had taken a liking to him.
Arkin spent two years with Second City in Chicago, which he describes as giving him 30 years of experience. He went to Broadway after this stint and went on to become a star of great magnitude. His contacts with other actors led to his becoming a director. He felt that he had short-comings in this area and was hesitant to take over the responsibility of a play that was floundering. However, after the first director left and the replacement left, the actors were desperate to save the play. He relented and the play went on!
Not to diminish the accomplishments in his career, the best part of this book is Part II.
Arkin was invited by the dean of Bennington to give the commencement address. Not being comfortable with this, he came to a satisfactory alternative for his alma mater. He would put on an improvisational workshop which would be attended by 35 students who ranged from freshmen to seniors. The result was a successful presentation to the rest of the student body. After that, he started having workshops where people from various walks of life attended and learned more than just improvisation. Actors, lawyers, doctors, mothers, fathers, and the like attended.
One of the workshops is described in magnificent detail where the philosophy of Alan Arkin shines through.
A lot of food for thought is contained in Part II. Arkin is able to convey a message that could very well be the topic of another book.
This book is highly recommended.
More like this story