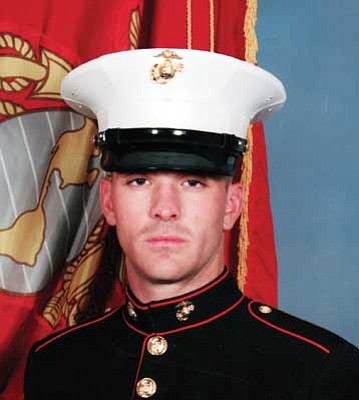 Originally Published: March 25, 2011 6:01 a.m.
KINGMAN - A Marine who was born and raised in Kingman lost both of his legs two nights ago in Afghanistan when an improvised explosive device he wasn't aware of exploded.
Cpl. Jordan Maynard, 26, was on foot searching for IEDs to disable Tuesday night, said his sister Chelsea Curry. The equipment he was using to find the explosives didn't detect the IED that blew up and injured him. Maynard is in his second tour in Afghanistan as part of Operation Enduring Freedom.
Curry said Maynard's family is having trouble getting more information. They don't know if he's conscious, and everyone is waiting for him to be transferred out of Afghanistan and into Germany, so they can hopefully talk to him or at least find out his status.
At least 15 family members - including Maynard's mother Angela Patterson, his wife Jennifer and his 6-year-old son Jay - have gathered in Kingman and await more information.
Maynard went to Kingman Middle School before moving to Flagstaff where he graduated from Flagstaff High School, said Curry. When he gets home, he will
reside with his family in Kingman, she added.
"We're all really stressed out," Curry said. "We just want to find out where he's at and how he's doing."
The family is relieved that Maynard is alive, but they're worried about how they're going to make accommodations for him now that he will be in a wheelchair, said Curry. Maynard's family plans to open a bank account for donations and set up donation pots all over town. All donations will help pay to remodel Maynard's house for wheelchair access, she said.
The first donation pots will show up at Gas N Grub and Beale Street Brews, said Curry. The family hopes to add more, but that will be up to local businesses.
Anyone interested in making a donation or finding out more information is encouraged to either call Curry at 897-7989, or e-mail her at chelseacurry@live.com.