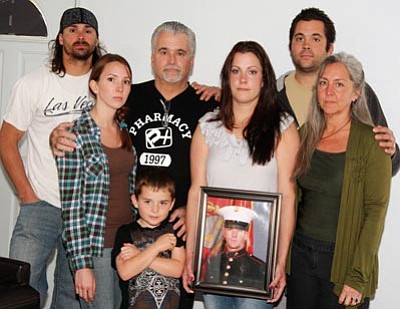 Originally Published: March 27, 2011 6:02 a.m.
KINGMAN - Jordan Maynard, the Kingman Marine who was severely injured in Afghanistan last Tuesday, was transported to Germany on Friday for further treatment.
Maynard's sister, Chelsea Curry, said he gave his nurse two thumbs up when she asked him if he could hear her.
Eight marines fell victim to the improvised explosive device that injured Maynard. One soldier died, said Curry. In fact, Maynard came close to death as well. The explosion injured his stomach and caused internal bleeding. As a result, his heart stopped, Curry said, but a doctor who was on site was able to revive him.
Maynard lost both legs. One was cut above the knee and the other was cut off right at the knee, said Curry. Now that the military transported him to Germany, she said doctors plan to re-open his leg wounds, clean them and adjust the sutures.
Curry released a written update to the Miner Saturday. An abridged version reads as follows:
"I talked with Jordan's surgeon tonight, which was approximately 1:30 a.m. in Germany. The surgeon enlightened me on many facts that we were shielded from.
"First off, Jordan's heart didn't just stop. Jordan arrived at the first medical facility in Afghanistan with no pulse. The medics there, or doctors, opened Jordan's chest to manually massage his heart. They found Jordan's heart void of blood. In medical terms, Jordan bled out. They tied off his main artery in an attempt to force and keep blood back through the heart and to his brain.
"Now, back to Germany, Jordan arrived with a fever and was very sick. The two thumbs up referred to earlier were to determine his brain activity. Two thumbs up is an indication that both sides of the brain are functioning. However, with the lack of blood flow, the tissue in Jordan's left leg had become infected. In other words, gangrene had set in.
"Jordan's surgery was an 'adjustment.' They had to take more of the leg, just about to the hip. Jordan is in a 'medically-induced coma.' He is being pumped with antibiotics. He still has a fever, but the surgeon feels confident that the situation is under control.
"If all goes well, Jordan could fly out as early as Sunday to Maryland. He will have to go through several more surgeries and skin grafts to his leg.
"This news was devastating since we all thought, and were adjusting to, his injuries being isolated to the loss of his legs from the knee down.
"Jordan has a Facebook dedication page and there is a link that people can donate through PayPal."