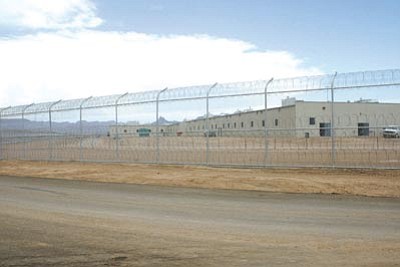 Originally Published: March 28, 2011 6:02 a.m.
KINGMAN - The private prison just outside of Kingman has resumed accepting inmates again, eight months after the escape of three inmates.
More than 150 inmates convicted of violent crimes were transferred out of the prison in the weeks following the escape, and the Arizona Department of Corrections said it wouldn't send any new prisoners until significant changes in security were made by Management and Training Corporation, the company that manages the prison.
An assessment by ADOC following the escape of the three men July 30 found multiple problems, including a broken alarm system, flawed procedures by staff and glaring gaps in security. Multiple prison officials, including Hualapai Unit Warden Lori Leader, her security chief, and Complex Warden Darla Elliott all either resigned or were fired following the escape. The ADOC on-site monitor at the prison was also fired after admitting he had never read the contract he was supposed to be enforcing.
ADOC Director Charles Ryan said that the prison has undergone "an extensive security review" and that new inmates will be sent beginning this week.
In a prepared news release, Ryan said he will keep in place restrictions that prevent the Kingman prison from receiving inmates convicted of murder or attempted murder, or those who have a history of escape attempts. A "seasoned" ADOC deputy warden has also been assigned to oversee daily operations at the MTC facility.
"The security failures that led to the escape cannot be allowed to occur again," Ryan said. "The state will insist that MTC continue following ADOC policies."
Residents were told when the prison was built that it would only house DUI and other violent offenders. Ryan admitted to the Board of Supervisors last fall that ADOC officials violated regulations when they failed to notify the Legislature, the BOS or the public when approval was given to change the classification of the Kingman prison from DUI offenders to general population on May 12, 2005, and again when murderers were first moved to the prison beginning Dec. 13, 2007.
Ryan said the change from DUI offenders to a general population was made by former Director Dora Schriro because there weren't enough DUI offenders to fill the prison.