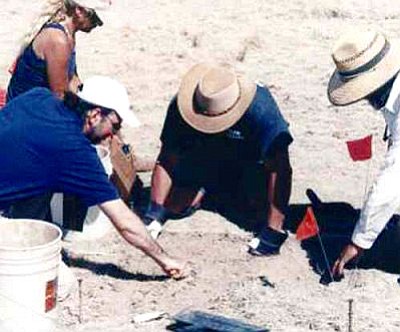 Originally Published: May 3, 2011 6:01 a.m.
KINGMAN - Planes taking off and landing at the Kingman Airport isn't unusual, but more than 50 years ago, a much more unearthly aircraft is said to have crashed north of town in the area near the airport.
UFO researchers believe that a saucer-like craft crashed here May 21, 1953, although it wasn't disclosed until a member of the U.S. Air Force went on record 20 years later and said he worked on the investigation.
Researchers will present information on that and other ET incidents during "The Arizona UFO Sightings First Annual Kingman Conference," slated for Friday through Monday.
The schedule includes a Friday evening "Meet and Greet" while a day of lectures will follow on Saturday at conference rooms in Hualapai Mountain Medical Center.
One of those lectures will be from Michael Schratt, a military aerospace historian, draftsman and researcher. Schratt will talk about a body, believed to be extra-terrestrial, that was allegedly found in the wreckage of the Kingman crash.
Roswell expert Donald R. Schmitt, who is the former co-director of the J. Allen Hynek Center for UFO Studies, will also talk about three archaeological dig projects he's organized at the alleged Roswell crash field in 1989, 2002 and 2006.
During the dig in 2002, Schmitt said excavators noticed a 10 foot-wide gouge in the earth that ran several hundred feet in length. After excavating some of the dirt, Schmitt said they found a symmetrical V in the ground, which seemed to indicate something had crashed there.
Another dig is planned in Roswell this fall.
Schmitt said time is running out for researchers to contact witnesses who have information on or have heard stories about the Kingman crash. Organizers are hoping that those with any information will attend the conference and share what they know.
"We see it as being one last attempt," he said.
Schmitt said that when it comes to Roswell, many military eye witnesses who are now in the end stages of life are making "death-bed" statements about what they saw, including occupants inside the crashed craft.
"They sure weren't from Texas," Schmitt said one man said. Schmitt and his team have interviewed more than 600 people in 20 years as part of his Roswell investigation.
The conference will include a "Contact Day" on Sunday where participants will take a field trip to the alleged Kingman crash site. They will also visit a plot of privately-owned land near Meadview, where Charles Balogh of Phoenix will teach lessons developed by Dr. Stephen Greer of the Center for the Study of Extra-Terrestrial Intelligence. The night will end with a sky watch and "galactic meditation."
The conference will close Monday with a round-table discussion and talk by Len Kasten focusing on the challenges he says humanity faces as we realize we are not alone.
Cost for the full 4-day conference is $150. The "Contact Day" excursion may also be purchased alone for $105. Special rates are available for students and those who cannot attend the whole conference.
For more information, visit www.Arizona UfoSightings.com or call (928) 351-7763.
More like this story