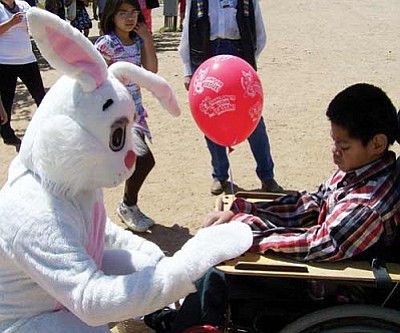 Originally Published: May 4, 2011 6:01 a.m.
GOLDEN VALLEY - More than 200 children turned out for Pistoleros and Roses annual Easter Egg hunt at Golden Valley's Veterans Park April 24. There were games, prizes and more than 1,000 plastic eggs filled with surprises by the Golden Valley Baptist church.
Three children found special golden eggs and received Easter baskets full of prizes. Pistoleros and Roses gave out shoes and stuffed animals to the children. The Pistoleros and Roses, American Legion Post 22, Ladies Auxiliary VFW Post 2555, the GV Chamber of Commerce and the Golden Valley Baptist Church all sponsored the event.