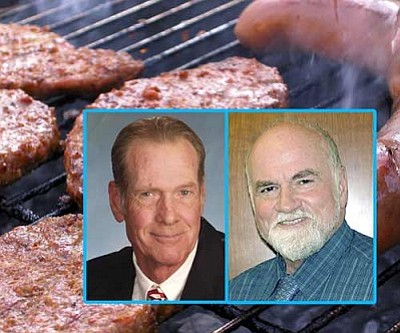 Originally Published: May 5, 2011 6 a.m.
KINGMAN - Despite tough economic times Mohave County still plans to hold its employee picnic in June. According to county officials, the committee in charge of the picnic has received about $4,000 a year from the general fund since 2008 to help plan the picnic.
The annual picnics started in 2005 and were originally funded by the proceeds from vending machine sales in the county buildings, County Public Information Director Darryle Purcell said. At a later date, the Board of Supervisors decided to donate the vending machine funds to the blind instead of using it for the picnic.
The committee uses the funds to help pay for raffle items to raise additional funds for the picnic, Purcell said. Whatever funds are leftover are turned back into the fund at the end of the year and used for the next year's picnic.
At the end of 2009 the fund had more than $7,000. At the end of 2010, the fund had more than $8,000 in it, Purcell said.
District I Supervisor Gary Watson pointed out that county employees have not had a raise for four years, and he viewed the picnic as way for the county to show appreciation for all of the employees' hard work.
"If people want to be enraged about something, think about the $3.8 million the state took from local Mohave County taxpayers to balance its budget," Watson said.
Board Chairman Buster Johnson said he didn't agree with using taxpayer money to fund an employee picnic. If the employees wanted a picnic, they should raise the money themselves, he said.
Johnson also didn't agree with the idea of using vending machine money to fund anything. The money should be going back into the general fund, he said.