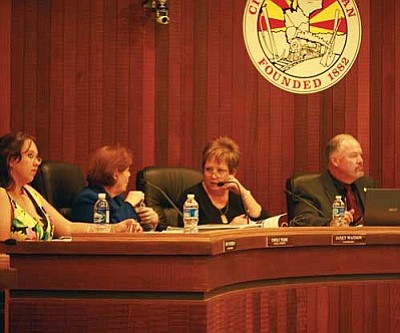 Originally Published: May 5, 2011 5:59 a.m.
KINGMAN - City Council spent most of Tuesday's meeting going through department proposals to raise fees, but when it came to the topic of raising sales tax, the argument got hotter than Arizona asphalt.
Councilwoman Janet Watson said Council raised the fares of almost everything, so she suggested raising the 8.85 percent sales tax rate by 0.15 percent - which would bring in an estimated $787,000 - and dedicating the extra revenue to street repairs.
As is, a $10,000 purchase means $885 is tacked on for sales tax. If Council were to add the 0.15 percent increase, that same purchase would cost the person $900 in sales tax.
It is a miniscule amount for people buying stuff, said Watson. Furthermore, it is important for the city to have this type of fund.
Councilman Richard Anderson said things are looking up - economy wise - so Council must get back to figuring what exactly the city wants to do with street repairs. He argued that it is irresponsible to raise taxes for something Council does not have a plan of action for.
"It is irresponsible if we don't," Watson countered.
Council needs to realize what it wants to change, how much it is going to cost and then set how it plans to get it, said Anderson.
Mayor John Salem said he is not for a sales tax increase, and Councilman Keith Walker said one way or another the city needs a funding mechanism to fix its roads.
"Let's figure it out," Walker said.
A motion to raise sales tax by 0.15 failed 4-3, and members of the audience let out a collective sigh - some out of relief, others out of frustration.
Next, Councilwoman Erin Cochran suggested looking at procedures to raise the bar and restaurant tax by 2 percent.
Much to her chagrin, Councilwoman Carole Young said that type of tax would affect struggling families who want to go out to eat once in awhile.
Would they not rather have roads than a weekend trip to Denny's, asked Cochran.
Some of them don't even have cars, countered Young.
Council did not approve Cochran's suggestion.
Harley Pettit, a member of Residents Against Irresponsible Development, said he was outraged that Anderson, Young, Vice Mayor Gordon and Salem voted against the sales tax increase.
He feels several Council members are for instituting a primary property tax but against sales tax hikes.
"They're obviously going for the large dollar item," Pettit said.
Pettit has been on a fixed income for 15 years, and a primary property tax would take hundreds of dollars a month out of his income - an amount he cannot afford - instead of pennies, which he argued would be much easier to compensate for.
"With a primary property tax, I would be faced with possibly being taxed out of my home," he said.
Kingman Finance Director Coral Loyd said it would take voters to institute it, and staff has not received any direction from Council to look at the possibility of adding a primary property tax anyway.
Fees
Council approved the Kingman Area Regional Transit's new advertisement schedule, fare increases and the deferment of capital purchase money for the year. But that was not enough. Council voted to eliminate the 30-minute route as well.
Young argued in regards to the new advertising schedule that the onus to come up with the projected $48,000 in revenue is on KART's managers.
The elimination of the 30-minute route will yield an unknown amount of savings because the numbers still need to be crunched.
Kingman paid $314,528 during the 2008-2009 fiscal year to run KART, but since KART did not use all that money, the city used the remaining funds to pay for KART during the 2009-2010 fiscal year. This year, after all the changes, KART has an estimated price tag of $233,849. That does not include savings from the elimination of the 30-minute route.
Another city service that Council approved rate hikes for is Cerbat Hills Golf Course.
Member of the Kingman Golf Advisory Commission Frank Gurzi said he was broadsided by these increases. He argued that the new rates are based on last year's numbers, which don't accurately reflect what is going on now. Gurzi asked Council to hold off on the increases until July 1, so the commission can make a recommendation based on more accurate figures - this year's sales.
Council denied Gurzi's request and approved the fare hikes, but plans were made to revisit the issue with a special meeting. If play stays the same as last year, the more expensive rates will bring in an estimated $52,000.
Gordon took issue with the fact the commission redefined "resident" to include all residents of Mohave County. Residents pay less to play golf than non-residents.
Council agreed with Gordon, and Walker suggested resident rates be limited to people within Kingman's water service district.
"If you're a resident," Mayor John Salem said, "produce a water bill."
As far as the rest of the park system, rates for everything from youth football to pool admission were raised 50 cents, $1 or $2. Several other services such as those charged for basketball and volleyball court use were raised $5.
"These are not substantial increases," said Mike Meersman, the director of Parks and Recreation.
More changes to rates were accepted regarding the city clerk's office, the police department and fees charged by the court system.
City Attorney Carl Cooper said portions of these raises deal with code, which means code needs to be rewritten before any changes take effect.
"You're not going to find revenue in the criminal area," Cooper explained.
Council continued through department fee increase proposals, accepting most, changing others.
Once that was over, members turned their attention to the budget, and after a few changes - including a decision against hiring a supervisor for the new 911 call center right away and the elimination of the employee picnic - Council unanimously adopted the tentative budget, which moves the budget to May 17 for final approval.