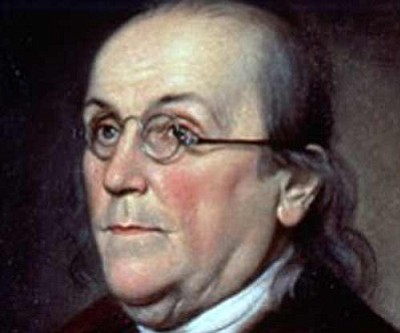 Originally Published: May 5, 2011 6:01 a.m.
Many readers asked me what prompts me to write in to the paper and try to urge change for Kingman and Mohave County.
Well, if it wasn't for Mr. Franklin helping my family in the 1730s, I would not have the guts to write anything. Yes, he helped the German immigrants from the Palatine region with public support. Mr. Franklin, a "newspaper man," helped my family and our nation at a difficult time.
The headaches I give the city council to protect the public regarding our water supplies are the result of my pride in our country. I will not and can not accept public officials who use their positions for personal gain. My feeling is that anyone who is on the public payroll must not lie or deceive the public in any manner as it violates the public's trust.
You, the reader of this article, have the power to ask important questions about city affairs to the city as a right and duty. (Like who does the audit of city books, and who pays them?)
The fear created by those who abuse public power must be challenged by firm resolve of public protection and duty.
Do you trust our local government, or do you trust the water you drink to be free of contaminants?
We need to trust our paid officials, and we need to stop being afraid to ask hard questions of highly paid public staff!
It's time we pushed back the fear and made this community a true and safe home for our children that even Ben Franklin would be proud of!
Dean Wolslagel
Kingman