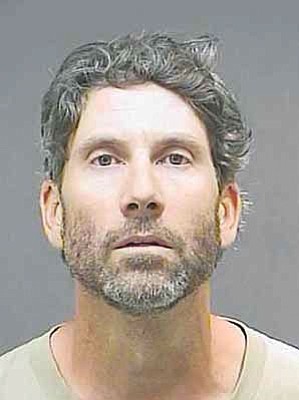 Originally Published: May 6, 2011 6:01 a.m.
KINGMAN - It was merely coincidence that the two Meadview men passed each other on the road back in March, but prosecutors allege that the ensuing accident that killed 53-year-old Jerry Allen Jennings was intentionally caused by a former co-worker with whom he had a falling out.
Robert Golden, 44, is charged with second-degree murder and leaving the scene of an accident in connection with the March 12 accident on Stockton Hill Road near the Pierce Ferry Road turnoff that killed Jennings and injured his wife. Authorities only learned what happened after a 19-year-old man in the passenger seat of Golden's car came forward and told them the accident they were investigating wasn't an accident after all.
The man said he was headed to Kingman with Golden for a construction job when they were passed on the road by a motorcycle just after turning onto Stockton Hill Road from Pierce Ferry Road. One of the Jennings reportedly flipped Golden off before the motorcycle took position in front of Golden's car and continued down the road.
The passenger told police Golden sped up and began to tailgate the bike before acting as if he was going to pass on the left. Golden then allegedly used his car to strike the back portion of the bike.
The man told police Golden didn't slow down after the crash.
"(Name redacted) saw only dirt after the bike was hit," police reports said.
The man, who had only known Golden for a few days, contacted police after learning that the driver of the bike died.
Jennings' wife told police that she and her husband recognized Golden when they passed him on the road and acknowledged that one of them flipped Golden off.
She said her husband kept checking his mirrors after they passed. The last thing she remembered was tapping him on the shoulder and saying, "Eyes forward."
Jennings' wife told police that Golden and her husband were former co-workers and had a falling out after Golden was fired from a work site several years ago for allegedly vandalizing a customer's car.
The feud continued over the years, with Golden reportedly vandalizing the Jennings' car just before Christmas.
Golden was arrested three days after the accident. Police say a tire tread from Golden's white Ford pickup matches an impression on the motorcycle's left saddlebag.
Police said Jennings was not wearing a helmet at the time of the crash. He died of blunt force trauma. His wife was wearing a "skull cap" helmet, which covers the skull without ear flaps or a face shield. She suffered road rash and a concussion.
Golden was on probation at the time of the crash after serving time in jail for several marijuana charges. Golden and his wife, Carol, were both arrested for growing a couple of marijuana plants in their home that Carol said were used to treat her medical condition. She was sentenced to probation last October.
Golden was sentenced immediately after his wife's hearing, and it appeared he was set to receive a similar punishment, but his temper seemed to get the better of him when he seemingly talked the judge into assuring jail time.
Mohave Superior Court Judge Steven Conn was telling Golden he was considering a prior drug offense in determining an appropriate sentence, but Golden interrupted the judge several times and angrily said to simply give him jail if that's how he felt.
Conn obliged by giving Golden a 90-day jail sentence.