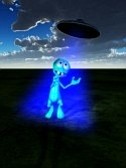 Originally Published: May 6, 2011 12:58 p.m.
"THE TRUTH IS OUT THERE"
As we all know, Arizona has put itself on the map in a big way concerning Illegal aliens over the last few years, but what about aliens from other worlds?
The entire state is known for its open and clear night skies and its vast vacant desert land that stretches on for miles and miles. Perfect conditions for extraterrestrial visits and military night flights all mixed in with the spiritual impact of Indian tribes and the Grand Canyon.
With international attention, the annual Arizona UFO Sightings Conference will be held this weekend in Kingman, a known hot spot for terrestrial crashes, contacts and sightings. People will be coming from all over the world to listen to the experts, scientists, witnesses and historians to hear legitimate evidence that there is life beyond our own in the universe. Don Schmitt (Roswell expert and former director of the J.Allen Hynek Center for UFO Studies). Michael Schratt (military aerospace historian, draftsmen and researcher). Len Kasten (expert on the impact of alternate life forms on earth and how it will effect humanity).
CONTACT DAY - this is the one I'm looking forward to the most. The conference will visit the site in Mohave County where a UFO with alien occupants crashed in the 1950s and areas where sightings have been concentrated and confirmed.
This is an exciting educational experience and visitors to Mohave County will understand why we all live here. It's a beautiful mountainous area close to Las Vegas, Laughlin, the Grand Canyon, and we will actually be in the Grand Canyon West area on contact day! There are lots of nice hotels and fabulous places to dine. The people are friendly and always welcome visitors with a smile.
I'm not going to miss this one as I am anxious to hear the stories from locals who were witness to sightings and crashes as well as all the scientific data and research they have accumulated.
I'll see you all there and we will all have great fun, meet new friends and see things that many will never get to see for themselves!
There is a schedule below and contact information.
http://arizonaufosightings.com/schedule
(928) 351-7763
Arizona UFO Sightings
May 6-9 2011 Event Schedule
We strongly advise you to register for the event in advance to ensure you have a space, since our seating is limited. We will be accepting registrations at the door beginning at 6 p.m. on Friday May 6th. Registrations will continue on Saturday morning at 7:30 a.m., and again on Sunday morning at 7:30 a.m. There will be a registration table set up before you enter the conference room. You will sign in there and pick up your registration packets.
Friday, May 6th
Event Location: Hualapai Mountain Medical Center, 3801 Santa Rosa Drive Kingman, AZ 86401
Conference Room A & B
Click here for a local map to the conference facility: Directions to the Conference
6:30-10 p.m. We will arrive at the conference facility in Kingman and begin registration, which will be open throughout the evening. This will be a social gathering where program attendees can mingle and enjoy fellowship. Refreshments will be available for sale.
Saturday, May 7th
7:30 a.m.-11 p.m. Registration will resume for Saturday arrivals. The first speaker will begin at 9 a.m. Several speakers will present throughout the day and there will be question and answer periods. We will have breaks for lunch and dinner. During the evening, a forum of speakers will be available for discussions and there will be an opportunity for attendees to share their personal UFO experiences.
Sunday, May 8th-Contact Day!
8:30 a.m.-11 p.m. We will gather and leave Kingman for an excursion to tour the 1953 UFO Crash Site. Bring a "bag" lunch with you. Continuing on, we'll arrive in the sacred lands at Meadview for more presentations by guest speakers. Food vendors will be on site to serve dinner. After dinner we will prepare for a sky watch and galactic meditation. Between 11 p.m. and midnight we'll wrap up the evening and head back to Kingman. Attendees are asked to arrive with the intention of respecting the process of creating a CE-5 (Close Encounter of the Fifth Kind), which is to initiate contact through a guided, gentle meditative and visualization activity.
This will be an extraordinary day jammed with high points and action-filled activities. You'll get into mode for contact experiences. Local Native Americans will share how their people live with everyday occurrences with UFOs and how to open up for contact. We will be in a very remote area at base of the West Rim of Grand Canyon where constant sightings and contacts are made.
This is a Sacred area where Natives respect it as a converging point for aliens, otherwise known as Ancients, subterranean, skywalkers, parallel world visitors and walkins.
There will be no alcohol or drugs tolerated. No firearms or weapons. are permitted.
Food vendors will be onsite. Purchase authentic Native crafting from the Hopi, Navajo, Hualapai & Cherokee. Bring drums & rattles and musical instruments for Native American sessions and activities. We will explore the areas of past crash sites early in the day, so arrive a few minutes early to get registered. Once registrations are filled we cannot make space for more.
Monday, May 9th
8:30 a.m. - 2 p.m. The first speaker will begin at 9 a.m. After lunch we will have an open forum for discussion to answer the question, "Where do we go from here." We'll have the opportunity to register for the next Kingman UFO Conference. At 2 p.m. the conference will come to a close and attendees will head out for their various destinations.