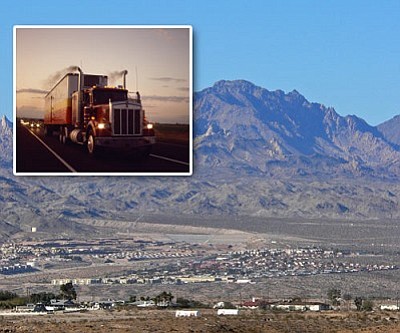 Originally Published: May 9, 2011 6:01 a.m.
KINGMAN - Officers from the Arizona Department of Transportation Enforcement and Compliance Division were inspecting commercial vehicles Tuesday and Wednesday on Highway 68 near Bullhead City.
According to ADOT Spokesman Harold Sanders, the inspections were done at a particular stretch of Highway 68, near the approach to Bullhead City where there is a 6 percent hill grade. The location was chosen because of concerns expressed by local residents. The hill can pose a serious safety issue for commercial vehicles traveling in poor working condition or with inadequate brakes, Sanders stated in an email.
Officers checked to make sure all safety equipment on the commercial vehicles they stopped was installed and operating correctly, checked lights, tires and brakes, inspected manifests and permits against the loads the vehicles were carrying, inspected the loads to make sure they were properly secured, inspected drivers' credentials and looked for drugs.
Officers weighed 203 and inspected 197 commercial vehicles during the special detail, Sanders said. Nine vehicles required more intense inspections, 16 violations were issued for vehicles being overweight, having no permit, being in violation of permit restrictions or having improper registrations. Also, 29 safety violations were noted during the detail resulting in five vehicles being placed out of service, and 16 citations and warnings were written for failure to stop for inspection, he said.