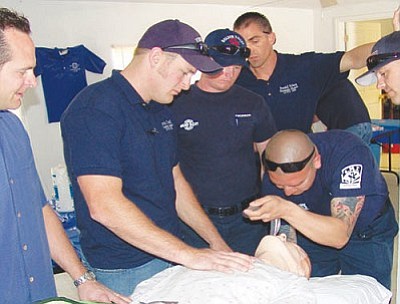 Originally Published: May 10, 2011 6:01 a.m.
KINGMAN - In it's three years, the Golden Valley Paramedic Academy has earned quite a reputation for itself.
Golden Valley Fire Capt. Dave Martin said that's because of the strength of instructors John Molitor and Rob Arnold, both paramedics with the department. The two are currently leading 24 students through the nine-month, 1,100-hour session.
The academy is made up of five students from the Golden Valley Fire Department. The other students are from the Kingman Fire Department, Northern Arizona Consolidated Fire District and others interested in paramedic service.
Once the students graduate in December and pass their National Registry Exam, the GVFD will have a total of 15 paramedics on staff, more than half of the firefighters. At least one paramedic is on duty at each of the department's three stations at all times, Martin said.
The academy teaches the paramedic everything that's not covered in the pre-requisite EMT class, he said, and goes into a much more advanced study of the human body. Kingman Regional Medical Center Dr. Brian Scott serves as the program's medical director.
More like this story