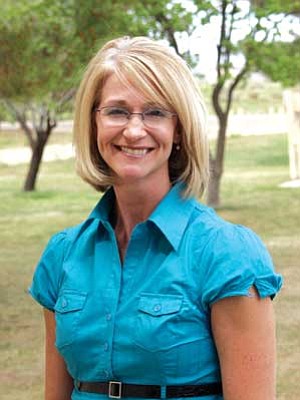 Originally Published: May 13, 2011 6:01 a.m.
KINGMAN - Forty years ago, the first graduates of Mohave Community College were Licensed Practical Nursing students who earned certificates of completion and went into the workplace to help others. In those 40 years, some 7,000 people from throughout Mohave County have earned certificates and degrees from MCC.
The student speaker for Mohave Community College's 40th commencement ceremony today will be Eve Cardiff, a Kingman resident who will be awarded an Associate of Applied Science degree in nursing.
She said she chose to pursue a degree in nursing because of the admiration she gained for nurses when she was hospitalized for eight weeks during her third pregnancy.
"I had attended the University of Kentucky and Brigham Young University and was a senior, about to complete a degree in education; but I chose to start a family and put my education on hold," Eve explained.
She said she probably would have gone back and completed her degree in education, if it hadn't been for her unexpected hospital stay.
"Those nurses were so kind and so good to me. I knew if I were going into a profession it was going to be nursing," she said. "One of the great things about nursing is that it involves a lot of teaching, too."
Eve auditioned before the commencement committee and was selected based on the content of her speech, her delivery and preparation.
The premise for her speech started with Shakespeare's line, "To be or not to be;" but she added a twist with the question, "So what?" What will you do with who you are?
"When Mrs. McNichols suggested that I apply to be the commencement speaker, I thanked her for thinking I would be a good choice, but I said no," Eve explained. "When my husband said, 'You need to do this,' I was still adamant that I shouldn't be the one to represent all MCC graduates.
"I tried to think of all of the different hats we are going to be wearing and yet, what we have in common. We are all moving forward and no matter what, we need to represent MCC well."
In addition to her fellow students, their families and guests, Eve will be cheered on at commencement by Dwayne, her husband of 18 years, and their five children - Paige, Tanner, Peyton, Andrew and Jared.
The public is invited to attend the event, which will take place at 3 p.m. today at the Mojave Crossing Event Center in Fort Mohave. No tickets or RSVP are needed.