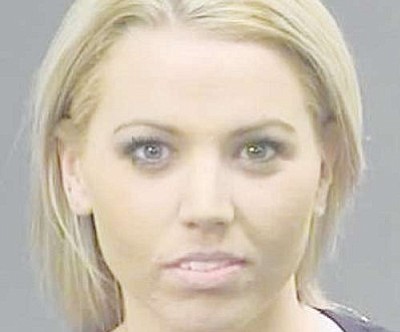 Originally Published: May 15, 2011 6 a.m.
KINGMAN - A 22-year-old woman's high-profile convict father was the gorilla in the room during her sentencing hearing on charges that she ran down a teenage girl earlier this year.
Ali Ketchner was sentenced to 2½ years in prison Friday after pleading guilty to a single count of aggravated assault for running over a 17-year-old girl during an argument in front of the victim's home in February.
Ketchner is the daughter of 53-year-old Darrell Ketchner, an ex-convict who faces the death penalty if convicted for barging into his ex-girlfriend's home in 2009 and attacking her and her family as they sat around the kitchen table after attending the city fireworks display.
Ariel Allison, 18, was stabbed to death when she came to the defense of her mother. The girl's mother, Jennifer Allison, survived the attack despite being shot in the head at point-blank range.
Ketchner has been in and out of prison throughout the years on drug offenses and other charges. He has more than 30 cases in the Mohave County Superior Court alone.
The Ketchner family's problems were detailed briefly by Ali Ketchner's mother and stepfather as they appealed on Ali's behalf for probation. Debbie Abshere, Darrell's ex-wife, and her children, including Ali, were witnesses to the December 1992 murder of a 36-year-old woman and her alleged lover by the woman's estranged husband, Dr. Michael Kogianes.
Ali's stepfather said Darrell's problems have had a deep effect on the family's lives.
"His actions created a living hell for all three (Ketchner girls) and any relative around him," Jim Hill said.
Hill said Ali went to live with Darrell in Mesa after his release from prison when she was 17. She stayed there for around 14 months, and Hill said there were at least five occasions where Darrell "beat her and left her stranded wherever he pushed her out of the car."
Ali was also said to be profoundly affected when her older sister, Ashley, was struck by a car driven by an 81-year-old man in the parking lot of Walmart in 2004. The Ketchners said Ashley was dragged for more than 300 feet and suffered third degree burns from the asphalt as well as numerous broken bones.
Ali Ketchner told Judge Stephen Conn before her sentence was handed down that she would never have intentionally done the same thing to someone else. She maintains that in her case, the victim was dragged only because she was holding onto the car while Ali tried to leave. She pleaded guilty pursuant to Alford to the aggravated assault charge, which is similar to a no-contest plea.
The victim suffered a broken finger and severe road rash. She was reportedly angry with Ali for coming over to her house to meet someone else that lived there.
Both Ali's mother and stepfather agreed that Ali has failed to develop coping skills and lashes out in anger in response to tragedy, including the death of Ariel Allison, whom Ali considered a sister. In her arrest report, Ali wrote, "I am very close with my family. (I) just lost my sister July 4, 2009, so I try to repay family by not using drugs and staying clean."
"She has to get the devil out of her as to what's eating her up," Abshere told the court.
Hill appealed to the judge to grant Ali probation so he could take her out of town to work on her problems.
Conn acknowledged that Darrell Ketchner's actions have no doubt affected Ali, but he added that Ali Ketchner had already been sentenced to prison before and was released from community supervision just a month before she was arrested on the assault charges.