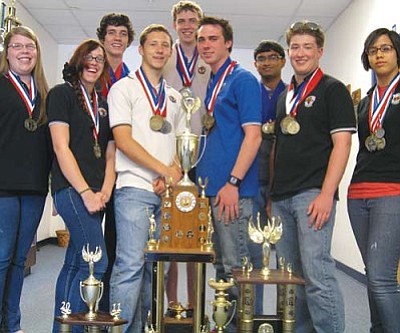 Originally Published: May 16, 2011 6 a.m.
KINGMAN - The Kingman Academy of Learning High School academic decathlon team enjoyed a successful year of competition due to strong senior leadership and increased contributions from underclassmen.
Michael Suchowierski, the team's coach for the last eight years, said an academic decathlon class early in the school year is used to select a nine-person team. The team must include three honor students with GPAs between 3.75 and 4.0, three scholastic students with GPAs between 3.0 and 3.74 and three varsity students with GPAs no higher than 2.99.
The classifications make sure that students with different academic abilities have a chance to participate, said Suchowierski.
Each year, the competition is based on a theme. This year's theme: the Great Depression. Topics included social studies, art, music, economics, math, language, literature and geology. Students competed in seven 50-question written events, wrote 50-minute timed essays, were interviewed, prepared and gave impromptu speeches and participated in a super quiz, which included a five-question relay.
This year, the team beat out 18 schools to repeat as regional champion. Last year's regional championship made KAOL High the first school to win in the last 25 years other than St. Johns High, said Suchowierski.
"Until the last two years, St. Johns won the region every year since I've been alive," Suchowierski said.
At the regional competition, KAOL took home too many individual medals to list, he said. Of the nine team awards given out, KAOL's team took home six. Seniors Nirmal Vijayavel and Eddie Knudtson finished first and second among the honors students. Seniors Shane Bowen and Nathan Morgan finished first and second among the scholastic students. Seniors Ben Brantley and Luke Adams finished first and third among the varsity students as well.
Once the regional competition concludes, the top 40 teams - regardless of school size - are selected to compete in the state competition.
Big schools usually dominate the competitions, said Suchowierski. Of the 40 schools chosen to compete, 30 of them were classified as 5A, which is the classification given to the largest schools in the state. KAOL High is classified as a 3A school.
3A champs
The team claimed its third straight 3A championship, and for the first time ever finished in the top 10 of all schools competing.
The highest a 3A school has ever finished in the state competition is seventh, and that was St. Johns High. KAOL finished ninth this year.
Vijayavel finished second in social science, and Shane Bowen finished third in language and literature, Suchowierski said.
The success earned the team the chance to represent Arizona in eNationals, an online version of the decathlon, for the third straight year.
The team placed fifth in the nation behind Texas, California, Wisconsin and Pennsylvania. Students took home six first-, second- and third-place awards in that competition as well.
"This was a true team effort," Suchowierski said. "They defended their title and improved their performance from last year."
Many of the members returned from last year's squad, he said. Those students exuded leadership and pushed the younger students to up their performance. Vijayavel and Bowen showed focused leadership, but the team's inspirational leader was Brantley, a student who did not make the team his freshman year.
"Over the last four years, Ben went from the bottom to the top," Suchowierski said. "He would not be denied."
As a freshman, Brantley said he looked up to seniors and wanted to be them. So he kept trying as hard as he could to not only get better but to bring the younger students up as well.
Brantley, who plans to attend Arizona State University and study mechanical engineering, said his best subject is science. That is why he finished second in the super quiz, which focused on Great Depression geology. Think dust bowl if it is hard to grasp the connection between the Great Depression and geology.
Although Brantley plays several instruments, he struggled in the music events because they focused on advanced music theory, which he learned from a book.
"I'm a visual learner," Brantley said. "Book learning does not always do it for me."
Now that he is moving on to the next stage of his life, he will miss the closeness he shared with his decathlon teammates.
"We are almost like a family," he said.
Senior leader
Vijayavel was one of the team's leading scorers both this year and last year. The difference was how vocal he was this year compared to last.
"I was very quiet as a junior and just let the seniors lead," Vijayavel said. "This year I was thrust into the leadership role and embraced it."
If people told him a couple years ago that he would be a leader on the team, he would have laughed at them.
He describes himself as a quiet person who opens up once people get to know him. The younger students would not allow him to be quiet this year; they did everything they could to crack his shell, and it worked.
Vijayavel will attend ASU's Barrett Honors College and plans to be a doctor someday. He loves the social sciences and placed in those types of competitions at every level.
He has troubles with the performance-based events, but he said they developed him as a public speaker, which he knows is a skill he will use his whole life.
Although he will miss his teammates, he plans to keep in touch with several of them and said there may be some reunions in the future.
As for next year's team, Suchowierski said returning students are taking what they learned this year and preparing for the next competition's theme - imperialism.